Celeb News
Millicent Mashile Mourns The Loss Of Her Mother In Law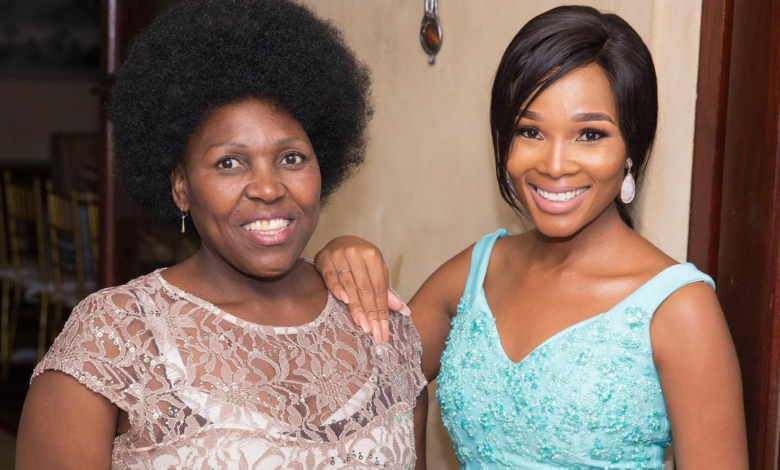 Millicent Mashile Mourns The Loss Of Her Mother In Law. Losing a loved one is one of the hardest things that anyone can experience especially if that person resembled a mother figure. YouTuber and MC Millicent Mashile revealed her heartbreak through an Instagram post that announced the passing of her mother in law or mother in love as the actress likes to call her.
In a lengthy Instagram post, Mashile poured her heart out about her relationship with her late mother in law. The mother of three shared how hurt her whole family with having to say goodbye to her in law whom was like a mother to her. Millicent shared how selfless her mother in law was for hanging on as long as she could through her pain, to protect them from hurting.
"We are hurt & broken, how do we say goodbye to you. How? We are struggling. You promised to be around to meet your first granddaughter😭 nothing could have prepared me for your loss. I'm so sorry you went through so much pain. You still worried about us in your hardest times, I saw how you held on because you didn't want us to hurt. I saw & felt your motherly love." she wrote.
The mother of three shared how hurt she is that her mother in law didn't get the chance to meet her first grand daughter but thanked her for welcoming her eleven years ago and loving her like her own. Mashile is exceptionally proud of the relationship between her children and their grandmother and is devastated to have to deliver the sad news to them when they return from school.
"Thank you for welcoming me into your home 11years ago, you took me in as daughter in love not in law. I always said, you & the boys defined what love between a grandma & grandkids is. The kids are obsessed about you. I still don't know how to even tell them you gone. I look at them & just become weak." she wrote.
Millicent bid farewell to her mother in love expressing how death would not get in between their love for her. Although it pains her that hey never got the chance to meet, Millicent is sure that her unborn baby felt her grandmothers love through her belly rubs.
"Go well Mommy, we will love you beyond the grave. We miss you already. I will tell your granddaughter how much you fought to meet her, but I know she felt the love every time you rubbed my belly" she wrote.
Friends and followers of the presenter flooded the post with condolences and wished her and the family strength as they walk through this hard journey. We would also like to extend our condolences to the Mashile family for their great loss.