Celeb News
Watch! Big Sister Kairo Has An Adorable Back To School Moment With Baby Asante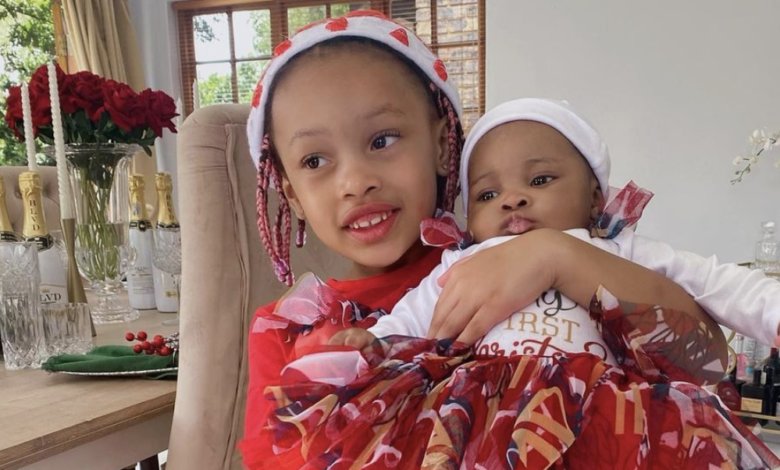 Watch! Big Sister Kairo Has An Adorable Back To School Moment With Baby Asante. Children are cute to watch and we love to see kids who are siblings interacting with each other. Kairo recently became a big sister after her mom DJ Zinhle welcomed baby Asante with boyfriend Murdah Bongz. Since Santy's arrival, the family has been obsessed with the bundle of joy, and we understand why.
Besides DJ Zinhle constantly gushing over her bundle of joy, Kairo has also been enjoying her big sister duties and is spending a lot of quality time with Asante. The duo just warmed our hearts once again following a video of the two having an adorable moment. The video showed Kairo teaching Santy shapes, numbers, and colours, which is very smart of Kairo seeing that it is back to school time now.
Asante who recently turned 4 months old looks very grown in the video and the big girl is even sitting by herself now. The pair has also previously warmed our hearts to celebrate Asante turning three months old. Taking to Instagram, Kairo shared a video of herself chilling with her baby sis and joking around while sitting by the pool.
Last year Zinhle revealed her pregnancy on social media and although many were happy for her, there were a number of critics dragging her for having two baby daddies and never having married either one of them.
A tweep took to twitter recently sharing their disapproval of celebs who have more than one baby daddy. She also dragged them for having children out of wedlock, making examples out of Kelly Khumalo, DJ Zinhle and Dineo Ranaka. The critic said the three ladies are setting a bad example for young women, which we think is quite weird considering that it's 2022.
Like the queen that she is, Zinhle responded to the critic pointing out how idiotic the statement is and how the question just doesn't even deserve a response.
Watch the video below!!