Celeb News
Pics! Inside Phelo Bala's Surprise 30th Birthday Celebration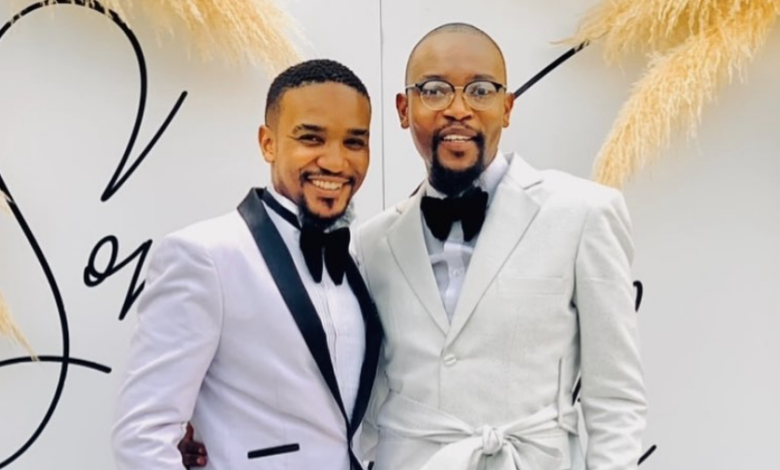 Pics! Inside Phelo Bala's Surprise 30th Birthday Celebration. We love it when celebs share special moments with their followers on social media, whether it's a birthday party, weekend getaway or a wedding we can never have a TMI moment when it comes to celeb content. A perfect example of one of our fave celeb couple to follow on social media is married LGBTQI couple Phelo Bala and Moshe Ndiki.
What we love about the husbands is that they constantly do the most sweetest gestures for one another, even in the smallest way which always leaves us feeling like 'mjolo' is something do-able. The couple are at it once again as Phelo recently turned a year older and as expected, Moshe had to go all out for his partner.
Taking to social media, Phelo shared a few photo's from a surprise birthday celebration that his hubby threw for him. The intimate dinner was decorated by well known event planner to the stars, Nono Events and the celebration was a black tie event that was tastefully decorated in black and gold and hosted outside at a beautiful garden resort.
The birthday boy shared all the images on his social media where his family and loved ones where in attendance, we also spotted a few well known faces such as Moshe's mother and How To Ruin Christmas actress, Charmaine Mtinta. Phelo who definitely enjoyed the surprise, penned his gratitude for the love on social media sharing how blessed and appreciative he is of his family and friends.
"Also a special thanks to all my peeps that also made my surprise what it was. Thank you for laughs, gifts and many kind words. You guys looked awesome. I love and appreciate you all, Fam" he wrote.
A few weeks ago, Moshe also celebrated his 29th birthday and Phelo showed his hubby some love on the Gram to wish him a happy birthday and many more celebrations to come. The grooms looked very handsome in their navy matching attire and their smiles are proof that they really had the time of their lives.
"Happiest birthday to my husband, love of my life and my best friend @moshendiki. May all that you desire come to life. You're a blessing to me and many. I love you most and will always continue to do so" he wrote.
Check out the images below