Celeb News
Musa Mthombeni Shares His Vision Of An Ideal Home In Celebration Of His 5 Month Wedding Anniversary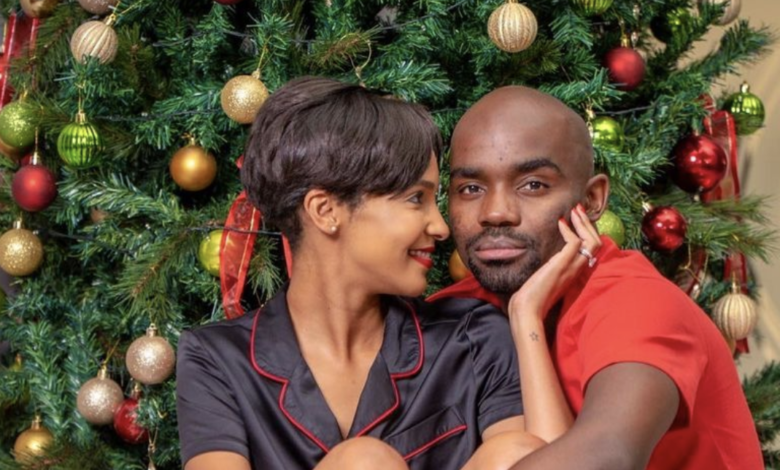 Musa Mthombeni Shares His Vision Of An Ideal Home In Celebration Of His 5 Month Wedding Anniversary. Some might argue that he's a love-sick puppy but we say if it's not that Dr. Musa Mthombeni and Liesl kind of love then throw the whole relationship away. The couple is still going very strong and are celebrating another milestone in their marriage.
Monthiversary's recently became a thing after Musa tied the knot with the love of his life Liesl Laurie and every month the couple makes it a point to celebrate their union. The newlyweds recently passed the 5-month mark and Musa is already yearning for a home with a white picket fence and kids. Taking to Instagram, Musa celebrated the day with a post sharing what his ideal home would be like.
According to the doctor, in his mind when he comes home he sees their kids running up to him to greet him after a long day at work then he walks over to his beautiful wife Liesl and gives her a mind-blowing kiss. The imaginary children are of course grossed out by their parents kissing and they all laugh together like a cute family on a TV show.
"Happy 5 months married today with my baby @liesllaurie. I still can't believe we're married. WILD!!!! Like I come home and say "honey, I'm home" and the theoretical child say "yay daddy's home" and they run up to me for a hug and I pick them up and kiss them. Then I walk up to you and say "hello beautiful wife" and you say "hello sexy husband" and then we kiss and the theoretical children say "Eeuw mommy and daddy. That's disgusting ? "Then we smile and laugh together like a cute little family" he wrote.
Musa's followers couldn't help but swoon over the heartfelt post, sharing how Liesl is lucky to have bagged a romantic like Musa, and we would definitely agree.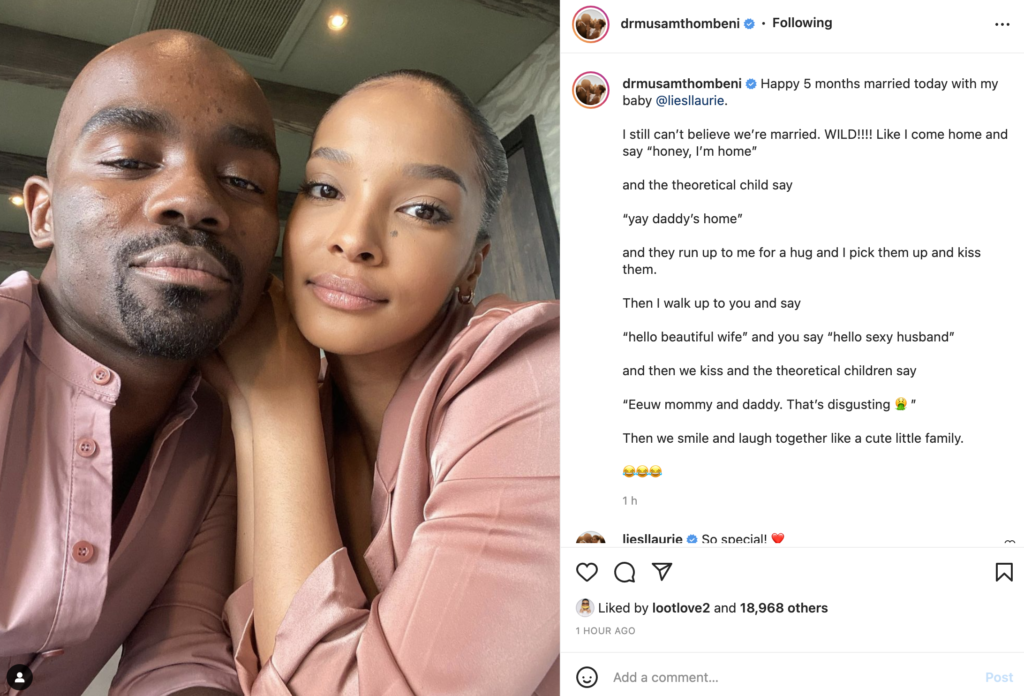 Liesl who was tickled pink by her husband's post also celebrated the day with an Instagram post sharing how excited she is for the bright future that lays ahead for their marriage. We are also looking forward to witnessing it all play out and we can't wait until it's time for the mini Mthombeni's to arrive.
"Future so bright… ?I look forward to spending all my future days with you. 5 months" she wrote.
Congratulations guys!!