Celeb News
Local
Music
Loyiso Bala Receives Backlash After Sending Weird Birthday Message To Gay Brother Phelo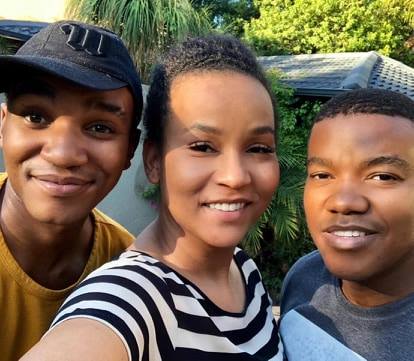 Loyiso Bala Receives Backlash After Sending Weird Birthday Message To Gay Brother Phelo! Whilst social media has been celebrating Phelo Bala openly dating as a gay man and being able to openly state he could enjoy a website like twinki rather than any straight alternatives – which is powerful in the black community. However his brother Loyiso feels different.
Loyiso took to social media sending a weird birthday message to Phelo that left a sour taste and black twitter are not here for it and him. "Blessed to have spent some quality time with my brother @PheloBala the past few weeks. As I said to him, "I'm in no position to judge u but to love you and to always point you to Christ. Your relationship with him will define your life's purpose." #Happy28thBirthday mntshan'am," the singer tweeted along with a photo of him, his wife Jenifer and Phelo.
Black twitter didn't waste time calling out Loyiso for being a horrible brother for sending the message he did. Check out his reactions below.
That Loyiso Bala tweet just reminds me how much abuse we accept from our families because we feel grateful that they tolerate us. The world is so horrible to us that we accept the bare minimum from our families and call it love.

– Jamil F. Khan (@JamilFarouk) March 25, 2019
If I was a petty man, which I am not ?, I would say to Loyiso … ?? pic.twitter.com/IjnJ5zGJdG

– Phil Mphela (@PhilMphela) March 25, 2019
Loyiso basically asking Jesus to make his little brother straight. ….that's his wish for his birthday

This nigga got mad jokes ?

– Culprit (@CulpritEnter) March 25, 2019
The Loyiso/Phelo situation shows how LGBTQI+ community has to "grateful" when family "tolerates" them.

The community settles for bare minimum because abantu ba-fucky.

It's saddening ?

– Don't Tell Me English, Monica! (@L_Abo_) March 25, 2019
Ugqibile kaloku ukumjaja, Loyiso. Couldn't you just wish your baby brother a Happy Birthday without all of this? We are honestly not interested in how YOU feel about your brother's sexuality. You clearly have a point to prove. The question you should be asking urself is "WHY?" https://t.co/5sD19fleHe

– Spitch Nzawumbi (@SpitchNzawumbi) March 25, 2019
Loyiso came on here to ensure bazalwane know he is not down with the same sex love and disguised it as a HBD message.

Passive aggressive back handed love? What is it good for? Absolutely nothing!!!

– Notsile Nkambule (@brownskinnono) March 25, 2019
Loyiso is just being a typical self-righteous mzalwane. So being gay means you need to be directed to Christ? Why judge a phenomenon foreign to you?

– Irvin Pooe? (@Irvinpooe) March 25, 2019
If Loyiso can tweet that about his brother, I wonder what he says to him in private.

– Nolwazi Shange (@NolwaziNgubeni) March 25, 2019