Celeb News
Kgomotso Christopher Mourns The Loss Of A Close Family Member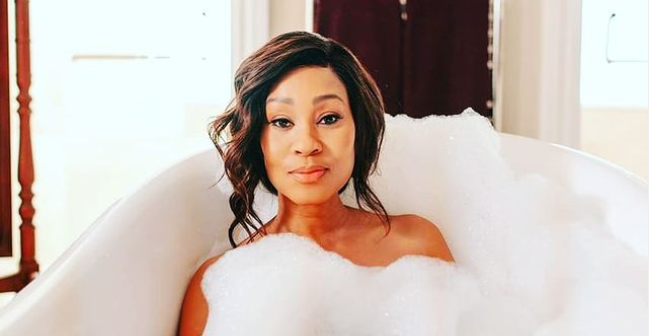 Kgomotso Christopher Mourns The Loss Of A Close Family Member. Family does not only mean the people that you are related to by blood but it can also stretch as far as friends and sometimes pets. It is very hard to lose a family member especially if you had a close relationship and actress Kgomotso Christopher is currently mourning a fallen soldier of her family.
Taking to twitter, the Legacy actress revealed that her family pet has sadly passed on and they are very devastated about the death. Kgomotso revealed that their pet fish named Darwin died recently and her children fought very hard to give him a dignified burial. Christopher posted a photo of the official place that Darwin was laid to rest which was decorated beautifully with flowers.
After tweeps flooded her post with messages of condolences, the proud mom thanked the masses for all their kind messages that have given them strength during this hard time.
"Siyabonga. Here lies the remains of our darling Darwin?. Thank you for your condolences. I was you. I insisted on "burying" all our pets. So I understand. Although we also bury pigeons from the neighborhood, take fallen chicks to shelters. My son is an Empath. So I indulge him" she wrote.
The actress did not reveal how exactly their beloved pet fish reached his final days but she insisted that he get the burial he deserves like all their other deceased pets. Kgomotso shared that her son who was hurt the most by Darwin's death insisted that he be put in a casket which happened to be one of Kgomotso's facial box.
Christopher revealed that Darwin was only with them for 5 days until he passed and she has since been busy with funeral arrangements. Tweeps who sympathized with the heartbreak that the Christopher's are currently faced with also shared their heartbreaking stories of childhood pets that they have lost and how they also demanded a dignified burial for their dearly departed pets.
The actress also revealed that her family started off the year on a bitter note after losing family members and how the death of Darwin just made matters even worse. She did not reveal who in her family passed away in the new year but we commend her for showing so much strength in the midst of hardship.
"2022 dribbling me already…started the year with losing family members…now even the fish we got 5 days ago is gone…I'm busy looking for a fish coffin" she wrote.
Our condolences go out to Kgomotso and her family!!