Celeb News
Enhle Mbali Responds To Claims That She Has Reconciled With Her Ex Husband Black Coffee
Enhle Mbali Responds To Claims That She Has Reconciled With Her Ex Husband Black Coffee. Actress and businesswoman Enhle Mbali and Black Coffee were one of Mzansi's power couples all before their marital problem came to light.
The lovebirds that once traveled the world together were intertwined in a sour divorce battle that saw the two entangled in a messy divorce court battle. Black Coffee has allegedly moved on with love life and has been rumoured to have had a few hook ups with international super models.
The actress's fans and followers have been interested in knowing if she has also dipped her toes in the dating pool. Taking to her Instagram story caught wind of rumours that have been making their way around about her and Coffee working things out.
Enhle distanced herself from claims that she and her ex husband were on the road to patching thing up.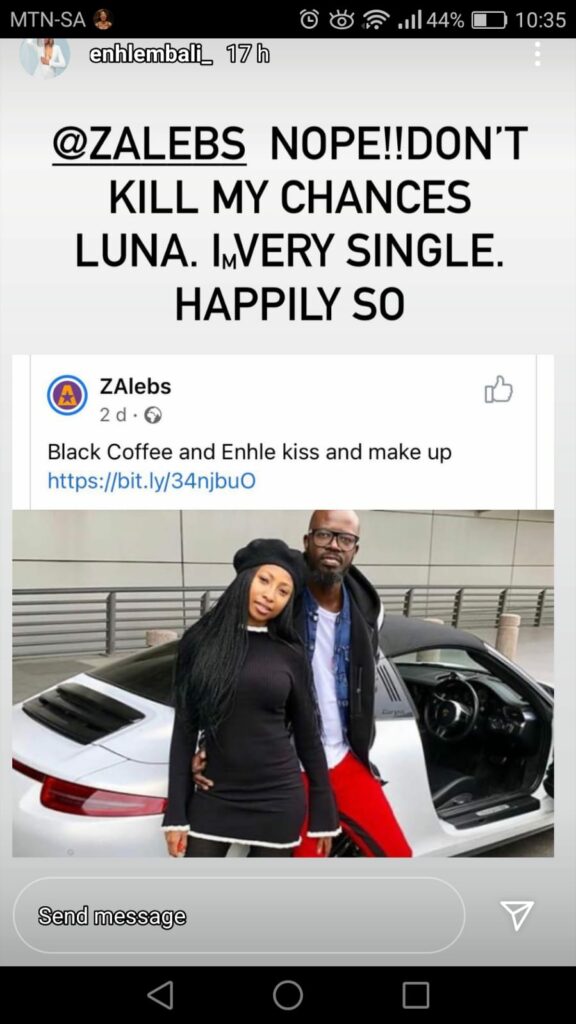 This is one divorce that will not go down drama free. Enhle Mbali and her estranged husband Black Coffee's matters always make headlines, since they went public about their troubled marriage. A few months ago, it was reported that Enhle wanted Black Coffee to take care of her leisure expenses. Sunday World reported that Enhle wanted Coffee to settle her legal fees costing R4 million, which excludes her other demands of R131 000 monthly maintenance, R17, 800 for her beauty expenses, medical expenses and a R30, 000 monthly stipend. The actress and entrepreneur allegedly demanded another extra R500 000 for her annual holiday, revealing that the DJ earns an income of R100 million per annum.
The publication also reported that the court could not find grounds to meet Enhle's demands of more than R130 000 per month for child maintenance, groceries and beauty cosmetics. Enhle, who has always tried by all meant to maintain her silence, took to social media to clear her name against the allegations.