Celeb News
Connie Ferguson Shares How Having Access To Your Partner's Bank Account Strengthens A Marriage
Connie Ferguson Shares How Having Access To Your Partner's Bank Account Strengthens A Marriage. When we think of celebrity power couples, Shona and Connie Ferguson are definitely at the top of our list. Proven many times by their media empire and baecations, the love birds are practically joined to the hip and are the human definition of match made in heaven.
Shona candidly known as Uncle Sho, gave his followers a very important piece of advice that the whole of social media just wasn't ready for. The King's Of Joburg actor took to Instagram and laid down the key foundation to having a solid marriage such as his. He began the message by addressing the males especially and listing all the necessary factors needed to make sure that a women feels loved and appreciated.
"Pray for woman, respect women, love women, praise women, support women, listen to women, encourage women" He wrote.
The part of his post that shocked everyone the most was the part where he said a man should let his woman have full access to his bank account. This is is simply because woman go through so much pain in the world not limited to bearing children and care giving. The fact that men get to dodge all that should be reason enough to let your lady have at it.
"Yes, that last one is just as important . She deserves it and more. Mxm! Lets' see you carry a baby for 9 months" he wrote.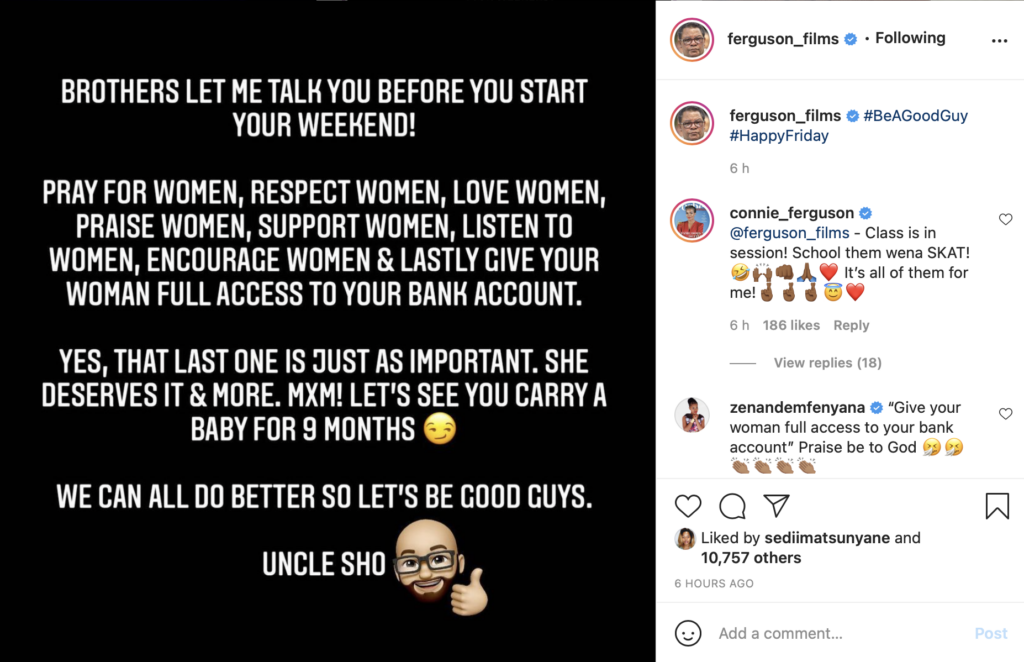 Like the proud wife she is, Connie commented on the post and encouraged her husband to share his pearls of wisdom about healthy marriages. Given that the pair have mastered the key to a long and lasting marriage as they have been married for almost two decades, we can all agree that they must know exactly what they are talking about.
"Class is in session! School them went Skat!" she wrote.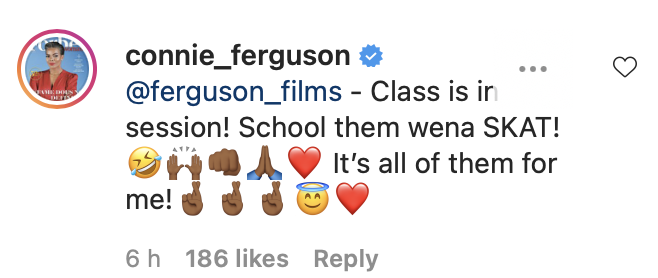 Connie continued to justify on why the point about financial access is important, claiming that it is a sign of good faith and complete trust to your partner. According to the actress this is how a woman gets to appreciate the lack of funds or the excess funds that her man has. This will then encourage you both to work harder to build your empire and grow your wealth together.
With that being said, Connie pointed out that this is not to encourage women to be irresponsible and reckless with the freedom they have been given but it is simply to empower one another to harder for your future, and we couldn't agree more.
"Let me elaborate on that last point. Doing so is the biggest sign of good faith and complete trust. The woman gets to appreciate the lack or the excess. The lack says let's work harder and build together! The excess says let's work harder and multiply and empower as we have been empowered! None of this says be reckless and irresponsible! Not at all" she wrote.