Celeb News
Black Twitter Is Here For Phelo Bala And Moshe Ndiki's Hot Romance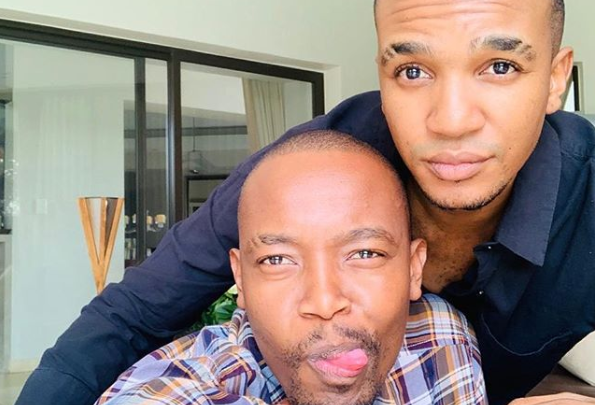 Black Twitter Is Here For Phelo Bala And Moshe Ndiki's Hot Romance! Singer Phelo and TV personality Moshe have the hottest celebrity romance in Mzansi right now and everyone is rooting for them.
The couple recently went public with their relationship sharing gushy, supportive and cute messages and photos on social media.
Check out what black twitter had to say about this budding young black love.
Yho Phelo and Moshe are so cute my gawwwd😍

— WhatsDrugsMyDealer? (@bucyntleks) February 11, 2019
Moshe and Phelo are so 😍😍😍 yazi pic.twitter.com/1xqmAVqg91

— Nontando Cele (@nontandocele) February 14, 2019
I stan this Phelo Moshe tin tin. I'm getting invested. pic.twitter.com/CqHIa2FoaO

— Princess Shuri💫 (@Simamkele_M) February 14, 2019
Moshe and phelo are my fav couple right now

— KING (@King_Fundisani) February 14, 2019
Moshe and Phelo are worthy. Momomomo

— A Virgin (@DeSICKMO) February 14, 2019
Moshe and Phelo are dating!!😍😍😍😭😭❤❤❤. Rhaaaaaaaa this is beautiful 😍 ❤ https://t.co/7oq1WINhmU

— 👑 🌻💕 MaMkhize 💕🌻 👑 (@ntombi_mkay) February 13, 2019
I never knew how much I liked Phelo Bala until I started seeing pics of Him and Moshe 😂😂😂😭😭😭😭😭

— Sir Blue (@NathiNtshingila) February 10, 2019
Pictures of Moshe Ndiki and Phelo Bala make my heart feel all warm and fuzzy. ❤️❤️ 😍 Abebahle mani!!

— Olwethu (@Ollie_Moses) February 12, 2019
And we can't get over Moshe's Valentine's Message to Phelo.
"I know I'm far from perfect nothing like your entourage
I can't grant you any wishes
I won't promise you the stars
But don't ever question that my heart beats only for you
It beats only for you"..

Moja mfethu @phelobala ♥️ Happy nantsika Khazi ♥️ pic.twitter.com/tut6DL1gLV

— Moshelle Obama (@MosheNdiki) February 14, 2019
Backstage foolery with this other guy who asked to take a pic with me 🤷🏾‍♂️ , thanks for coming and supporting #EveningOfLove ♥️#MCDuties#MyDate pic.twitter.com/GtRsOXQBr0

— Moshelle Obama (@MosheNdiki) February 14, 2019