Local
Sisterhood! Thembi Seete and Unathi Sing Each Other's Praises in the Most Beautiful Ways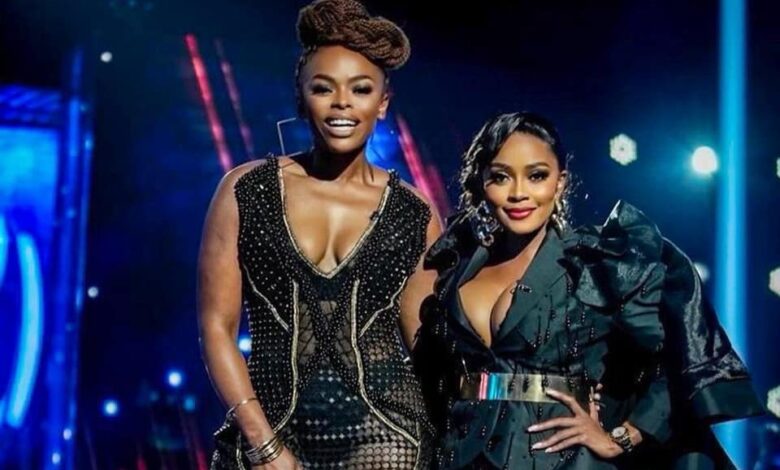 Sisterhood! Thembi Seete and Unathi Sing Each Other's Praises in the Most Beautiful Ways. Quite often many people assume women hate each other, and they are always jealous of each other's progress. This could probably stem from the fact that women are always compared, either by looks or level of success. Despite all of these theories, there are women out there, who celebrate each other.
A perfect example of such women is Thembi Seete and Unathi. This past Sunday Thembi was a guest judge on Idols SA and she and Unathi had such great chemistry. After the show, the two entertainers took to social media to share just how much they enjoyed being each other's company. Thembi spoke about how beautiful their over two decades sisterhood has been. The veteran musician and actress also mentioned the qualities that she and Unathi share, among them love for people and genuine spirit.
"I've known @unathi.co ❤️for over 20 years and she was, she is and she always be a vibe! This is sisterhood right here. We share that love for people, genuine spirit and high energy.
???
Ke thabile and I am so grateful for all the love from each person who watched and sent a shout out. Thank you! ❤️," Thembi said.
Unathi also spoke highly of Thembi in a heartfelt Instagram post.
"I have loved and ADMIRED you for 20 years TheyThey @thembiseete_ I remember our last lunch with Lebo the day before she passed away and it remains one of my favourite moments of my life. Last night you reminded us that you're a bonafide rockstar with the sweetest heart. Thank you for joining us for Showstopper," Unathi also hyped Tay-Tay.