Celeb News
Pic! Phelo Bala Pens A Heartfelt Message To Moshe In Celebration Of Their Wedding Anniversary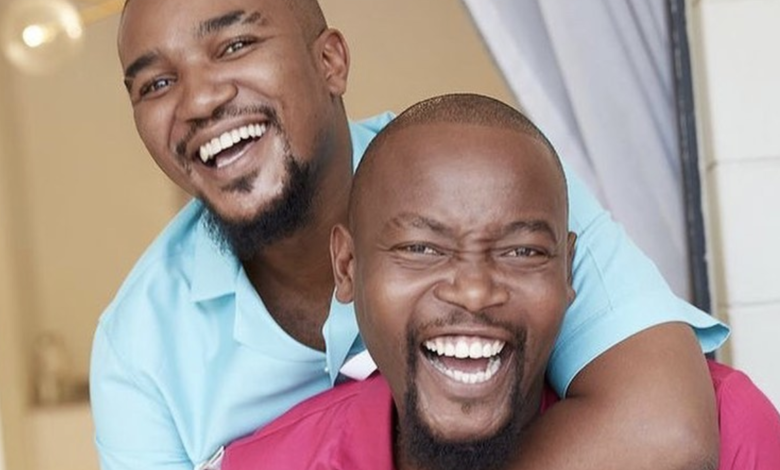 Pic! Phelo Bala Pens A Heartfelt Message To Moshe In Celebration Of Their Wedding Anniversary. Marriage is a beautiful thing, especially when love wins over all challenges that were experienced through the journey. Celebrity couple Moshe Ndiki and Phelo Bala are the definition of marriage goals and everyone supports their true love story.
The couple always make it a point to go the extra mile to celebrate one another, and the milestone that they have just crossed together will be no different. Taking to social media Phelo celebrated the two year anniversary of his marriage to Moshe with a lengthy appreciation post dedicated to his hubby.
In a social media post, Phelo wished his husband a happy anniversary, sharing how proud he is that they have come so far. Bala expressed his gratitude to Moshe for loving him regardless of his flaws. He added that although he can be wrong about things at times, Moshe is the kind of person to not give up but rather keep going.
He shared his hopes of God keeping him for long on earth so he can spend more time with his dear husband whom he loves from the bottom of his heart.
"Happy 2nd year wedding anniversary, love @moshendiki . Can't believe we've made it this far… I think you don't know how strong you are to handle someone like me until Moshe tells you so. I'm an extremist and at times a gentleman. Sometimes I'm laughing with you, other times"
"i'm so wrong but you try your best to keep us going. I love you and I mean it! I pray that God keeps you around with me in time for you to see His glory in my life! #31-09-2019″ Phelo wrote" Phelo wrote.
Last year the couple went through a bit of a rough patch with their public back and forth banter on twitter, not to mention the alleged interim restraining orders that were issued. Fans were happy to see that their love had been restored and they are still going strong.
Congratulations to the couple!!