Celeb News
Pearl Thusi Reveals How She Feels About Minister Fikile Mbalula Blocking Her On Twitter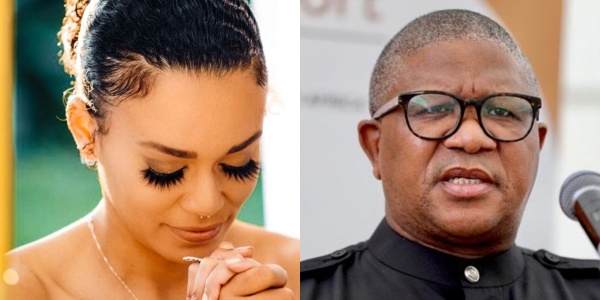 Pearl Thusi Reveals How She Feels About Minister Fikile Mbalula Blocking Her On Twitter. The block button twitter has become a saving grace for celebs to avoid having to deal with trolls. We have seen a number of tweeps sharing on social media which celebs have blocked them and now Pearl Thusi has also spilled on which well-known public figure blocked her and when.
Pearl Thusi is very vocal on twitter and that has often gotten her in trouble with social media users. Last year during the elections the actress was very vocal on how the ANC has been misusing government funds and has failed its people. Thusi made it her mission to drag the government during the elections and her tweets managed to get under the skin of many people including government officials.
It turns out Minister of Transport Fikile Mbalula was really in his feelings because of Thusi's tweets that had the potential to influence the public due to her massive following. Pearl has now discovered that she has been blocked by the minister on twitter and she is quite hurt by that.
In the hype of her upcoming national date with popular social media user Mr. Smeg, the actress has been going all out in preparation. Mr. Smeg has also been calling in favours for the big day and happened to reach out to Mbalula, asking him to sort out the traffic on the special day. Pearl responded to Smeg's revealing that Mbalula blocked her on the platform, so she will handle things herself.
"He blocked me loyo… myeke. We'd rather get security- let me make some calls" she wrote.
Pearl who was blocked during elections shared that she is actually quite hurt that things have come to this point because she thought they were friends. In more exciting news, the masses have been intrigued by Pearl's upcoming national lunch date that is happening at Oskido'd restaurant Daruma with a sponsor from Mercedes Benz Sandton.
The date is set to take place on Saturday and there are even talks of possibly streaming the lunch date. Are we the only ones who can't wait to get the scoop on how this date plays out or what?