Celeb News
Lerato Kganyago Responds To Jub Jub Threatening To Expose Her
Lerato Kganyago Responds To Jub Jub Threatening To Expose Her. South Africa is going through a very rough patch at the moment and everyone is on edge. Rapper and TV host Jub Jub took to his Instagram to share a few word about the looting and corruption that the country has been faced with. The rapper also urged the public to stand together during the national crisis.
In the caption of the video, Jub Jub spoke on the people who are commenting on the looting from a privileged point of view by referring to the black looters as hooligans. The rapper shared that although he doesn't condone the act of looting but he has an understanding of how the underprivileged communities are feeling after being lied to and misled by the government for years.
In the video, he also appealed to celebrities claiming that they are not doing enough or being vocal about the mess that is occurring in the country. This is when Lerato Kganyago responded to Jub Jub's video stating that his generalizing is a big problem because she along with other celebrities have been speaking on the crimes and corruption that the country has been facing and he is misleading his followers with this statement.
Kganyago spoke on how corruption has been passed down from one president to another and it's wrong how he unleashes his outrage on just one person who has been in power. The Metro FM host insisted that the root of the problem starts with the Gupta's even though they were also not the first to lie and steal from the country. Mother as she is affectionately known urged the rapper to address his people with honesty instead of trying to further segregate the public.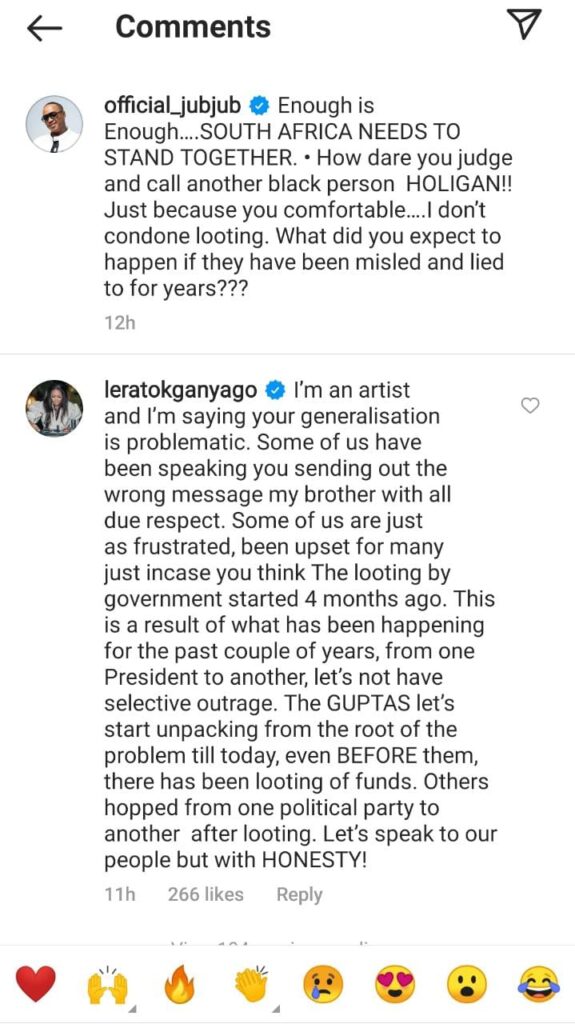 Things went a little south after Jub Jub responded to Lerato's claims with his own lengthy paragraphed response. The rapper not only questioned the accuracy of Lerato's message but also stressed how everyone is entitled to their own opinion. Jub Jub mentioned that he will not be commenting on politic because he is not fully informed to make any kind of statements but he will speak about the poor people who have been affected by all the violence and corruption.
The rapper stressed that he is in no way supporting the violent acts but what he was addressing is people making judgment from an opposed position. Jub Jub urged that Kganyago stand up and lend a helping hand instead of giving a political lesson. He ended the message with a threat to Lerato about airing out her dirty laundry if she were to ever come for him again.
Hectic!!