Celeb News
Local
Is A Celeb Behind The Cyber Bullying Of Lerato Kganyago? She Seems To Think So
Is A Celeb Behind The Cyber Bullying Of Lerato Kganyago? She Seems To Think So! It seems black twitter didn't like Lerato Durban July look. Fashion critics weighed in on how she looked at the event and some took it far.
Lerato saw it as cyber bullying and took to twitter to speak up about how she is often treated on the social media platform and where she thinks it comes from. Judging from her tweets, LKG seem to think a certain celebrity is behind the trolling that comes her way. Lerato didn't mention names but her message was loud and clear.
"So many years later you still get your fans to attack us!!!! The work!," she tweeted before adding that the bullies are sent to attack her. Do you think there's a celebrity behind the Lerato slander on social media or it's just trolls being trolls?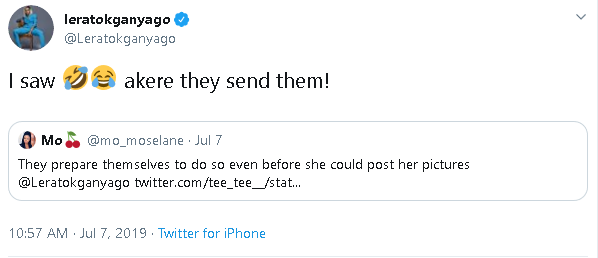 But it seems Lerato is using the all the hate to fuel herself to do greater things. Lerato concluded her rant saying, "Black people on twitter have been doing this to me for years, and for no reason, I don't know when they going to realize the amount of power they give me every time they do this."
Black people on twitter have been doing this to me for years, and for no reason, I don't know when they going to realize the amount of power they give me every time they do this 🤷🏽‍♀️ https://t.co/6ZfCggRJEK

— leratokganyago (@Leratokganyago) July 7, 2019