Celeb News
Dineo Ranaka Gushes Over Her Baby Daddy Blaklez Putting "Respect On Her Womb" With His New Song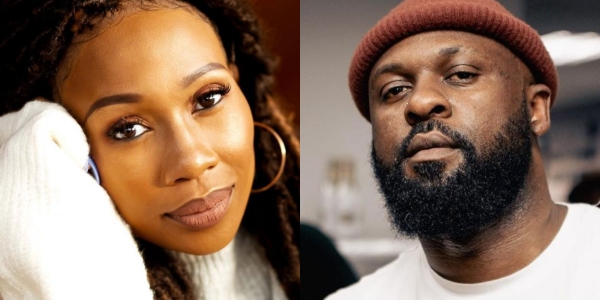 Dineo Ranaka Gushes Over Her Baby Daddy Blacklez Putting "Respect On Her Womb" With His New Song. The whole baby mama and baby daddy situation can often be filled with drama but with the right amount of maturity, things can actually be quite good. It seems like Metro FM radio host Dineo Ranaka and her rapper baby daddy Blaklez have mastered the art of friendship while co-parenting a child and we are here for it.
On today's Metro FM lunch time show The Bridge hosted by Dineo Ranaka, the mother of three couldn't help but gush over her baby dady's work on his new track. Blaklez real name Lesego Moiloa recently released a new track titled Chale which is available on all streaming platforms. The single has been getting a lot of love since it dropped from his fans which clearly include his former flame Dineo Ranaka.
After playing the song during the show, Dineo commented on how dope the song is, claiming that it was her soundtrack. She continued to boast about her baby daddy's quality of music and how his talent puts respect on her womb. Dineo is not clearly against men who have weak bars and sound whack, which Lez is thankfully in the clear from.
"That's a baby daddy guys, putting respect on my womb. Thank you, can't be out here sounding whack" she said.
The pair welcomed a daughter named Kopano while they were still together before their messy public breakup. According to Dineo, she split from the rapper because he was a bad father however, Moiloa was rather surprised by the remark. The two are clearly in a much better place now and we are here for this coparenting relationship.
Dineo recently gave her followers a glimpse of Kopano on Instagram, telling her mother off about the outfit she was wearing. Ranaka who was gushing over a sheer outfit also couldn't get over her make up and hair which was serving us mom's night off vibes. Unfortunately for her, Kopano did not approve of the outfit saying it was not normal for a mother to be showing too much skin.
This is when Ranaka realized that she has indeed birthed herself because her bundle of joy has a mouth on her just like her mommy.