Celeb News
Local
Bonang Terminates Contract With Management Company And Things Don't Look Good Between The Two Parties
Bonang Terminates Contract With Management Company And Things Don't Look Good Between The Two Parties. Everyone has been waiting with baited breath for what Bonang Matheba was going to say. The celebrated media personality who is now based in USA, has been posting hints on Twitter that she was about to drop a bombshell, and boy, a bombshell it was.
As many requested, Bonang took to social media platform Twitter Spaces to break the news to her followers. Among those who tuned in to listen include A-list celebrities like Sizwe Dhlomo, Lasizwe, Lady Pru, Thula Sizwe, as well as big brands such as Ford and KFC. Sadly the space crushed, as it was congested with over 15k listeners, but some tweeps managed to salvage something.
"Today I wish to share with you some disturbing news. Over the last few years I have been in a business relationship with a management group to represent my brand. I have put my trust in them and gave them stewardship over brand Bonang to build and support it across all mediums, including entertainment, fashion and entrepreneurship. " Matheba said.
She then went on to state that she has terminated the contract with the management company, whose name she didn't reveal. Bonang invited those who want to do business with her to contact her directly. She also revealed that her lawyers are looking into the matter to investigate the possibility of criminal conduct by the company.
"Today I announce that I have terminated the contract with them and they no longer represent me, or any of my business ventures. Should you require my services please contact me directly.
"Furthermore, I have instructed my lawyers to investigate the possibility of criminal conduct by the company and its representatives. I will revert over the next few days with more updates so that others can be aware of what I consider as their unsavory behaviour."
Many have come to the conclusion that Bonang could be referring to Celebrity Services Africa, a company that has been representing her for the past years. The company has also shared a tweet stating that Bonang is currently in breach of multiple contracts with various clients, and she hasn't been doing her duties for the past six months.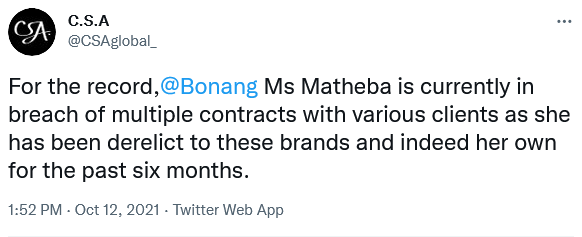 "There is no merit in these scandalous allegation, we look forward to the day in court with @Bonang; exposing the false and half truths that she has been spreading," CSA concluded.