Celeb News
Watch! Inside Pearl Modiadie's Son Lewatle's First Birthday Party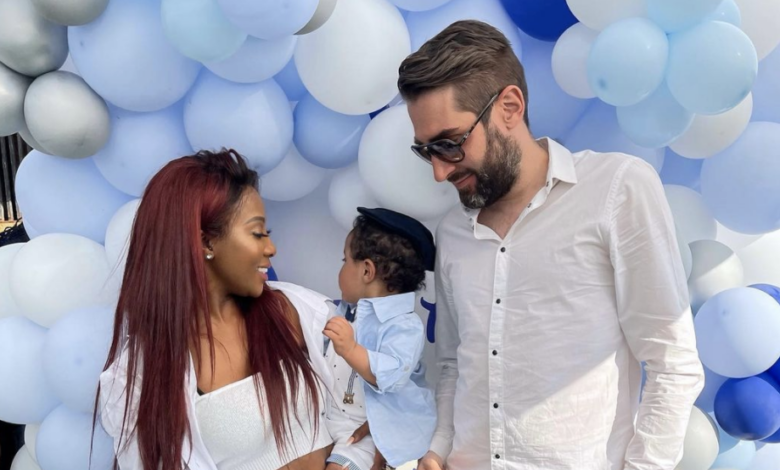 Watch! Inside Pearl Modiadie's Son Lewatle's First Birthday Party. Tv personality and radio host Pearl Modiadie has been having the time of her life being a mommy to her little boy. Although she is very private about her son Lewtle, Pearl does regularly share some tips and trick as well as her experience since becoming a mother. It's hard to believe that a year has already gone passed and the little guy is celebrating his first birthday.
Of Course the proud mom had to go all out to celebrate her son as she threw him the cutest garden party to celebrate her son. The party saw all pf Pearls close friends and loved ones in attendance and we saw a few famous faces at the party including bff Denise Zimba, Thomas Msengana and Lorna Maseko.
The party was the definitely decorated perfectly as it had a Disney inspired theme with a blue and white colour scheme. The party had every thing that a child could ever ask for including a huge three tier cake, jumping castle, life size characters and cute little tepees. The decor also included a long gold and white table for all the adults to sit and enjoy the cool garden vibe.
Pearl took to Instagram to share the magical day giving thanks to her family and support system that has contributed to her motherhood journey. Pearl also thanked her family for lending a helping hand for the party and her family for coming to celebrate with her and her baby daddy, whom was also present at the party.
"No words, I'm happy 🤍 We are so grateful for you. My family & the community I grew up in made this very special day wholesome. It truly takes a village to raise a child and today my little village came through for me in a big way. My sisters Dambuza & Tebo did the decor & entertainment , my uncle did the slaughtering, dad spoke to the ancestors, my friend Nombuso took on the role of photographer & nanny, cousins and aunts took care of catering & umqombothi, a family friend baked the birthday cake and parents brought the kids out to celebrate Lewatle with baby daddy and I 🎉 , just perfect! Happy Birthday my angel" she wrote.
The party was decorated by popular events company Nono Events and the theme was "a boho chic safari experience" and needless to say that they fully delivered. The former Metro host thanked the events company for pulling of the party and ensuring that her vision became a reality.