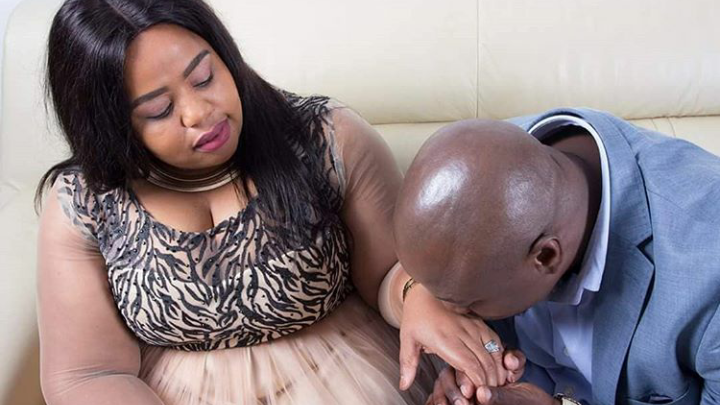 Uthando Nes'thembu Is Back And Black Twitter Is Split On MaCele's Behavior. Whether you love or or not, MaCele has always left viewers talking and the Season 3 premier episode was no different.
Out of all the wives, MaCele was the only one trending along with the show's hashtag. Black twitter can't seem to agree on whether MaCele is just a blatant person who says it like it is or if it's simply rudeness. The first episode was everything you want a reality show to be. Dramatic, shady and spicey with a lot of awkward moments.
Check out some of the reactions from black twitter.
I like MaCele She has a very strong character which is very likable to people. She has boundaries what you get is what you see. Which is rare for a women who is in her type of marriage. She is expected to be submissive, which clearly shows she is the contrary #Uthandonesthembu

— Rita Chihawa (@RitaChihawa) April 11, 2019
MaCele doesn't care about being liked hey…she puts HERSELF first. If she doesn't like something, she speaks up,akafeli ngaphakathi #Uthandonesthembu pic.twitter.com/9Eh4Jhn5E2

— Sne Ximba (@SneXimba) April 11, 2019
"Bedroom is a private space" yet the crew is filming there. Macele is a lot.#Uthandonesthembu pic.twitter.com/ekPQTnGLiv

— Zimkhita (@Zimmy_Dandala) April 11, 2019
Honestly, I missed Macele's drama. Its good to see the family! #Uthandonesthembu pic.twitter.com/zdwtMa1p7c

— Zibusiso Ndlovu (@zibukins) April 11, 2019
MaCele really made MaKhumalo sit on the floor because her bedroom is her sacred space? This woman is downright rude. #Uthandonesthembu pic.twitter.com/yK4KnUdLQG

— Raised In Africa. (@paballo_patsa) April 11, 2019
I'm starting to like MaCele though…moods and all, she is true to herself, she doesn't buy face #Uthandonesthembu

— nthabi (@nthabeemosh) April 11, 2019
MaCele is very abrasive and rude sometimes 😩😩😩 #Uthandonesthembu

— Ntobeko°III©™ † = ♥ (@MweliNtobeko) April 11, 2019
As much as MaCele is rude, she drops facts hey #UthandoNesthembu pic.twitter.com/ixKJ7XVHpD

— Cupcake Moerane (@ntebo_bby) April 11, 2019
#uthandonesthembu cleary MaCele has not changed 😅 pic.twitter.com/H7XMSlQEBs

— Siphelele Ndebele (@lerleh_n) April 11, 2019
There's a difference between being straight talker and being rude, MaCele is just rude and inconsiderate and MaYeni is a straight talker #uthandonesthembu pic.twitter.com/RrlN0nXXpi

— Lulama (@NDABALULAMA) April 11, 2019