Celeb News
The Beast Partners with Premier SA Betting Site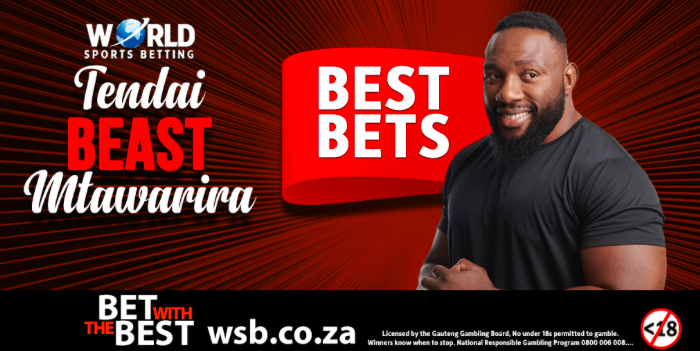 One of South African Rugby's most decorated players, Tendai "The Beast" Mtawarira has recently joined forces with World Sports Betting, one of South Africa's oldest and most trusted bookmakers as the company's newest brand ambassador.
Mtwarira, South Africa's third most capped Springbok has been busy since his retirement from international rugby following the Springboks' victorious 2019 World Cup run, seeing the legend lift the William Web Ellis before hanging up his boots.
The Beast began his career with the Sharks in 2006 after having been scouted by the Durban based franchise while still in high school. The Beast went on to make 159 Super Rugby Appearances for his franchise, and only within a year of Super Rugby did he get a call up to join the Springboks.
He debuted for the Boks in June 2008, against Wales, where he quickly staked his claim on the coveted number 1 jersey, playing the role of successor to the legendary Os Du Randt. With his early impact for both the Sharks and the Springboks, it was clear that The Beast's reputation too would become legendary in itself.
Aside from being South Africa's third most capped player behind Victor Matfield and Bryan Habana, the Beast is also the 17th most capped forward, and fifth most capped prop, making him one of the most influential props in World Rugby's history.
Mtwarira is no stranger to brand representation and brand image, as he is famously the cover of Security giants Fidelity, serving them faithfully for almost a decade.
Something about the security industry stuck with "The Beast", perhaps his role in his longstanding and influential tenure with the Springboks, as in 2020 he became CEO of Umlindi Security, a newly launched affiliate of the Fidelity Group. Mtwarira is also a shareholder in the company.
The decision to join World Sports Betting for the super star was easy as he believes that the company's brand is well aligned to his personal brand. World Sports Betting is well known for its integrity and trust, among other things that make them one of SA's best betting sites.
Aside from their integrity, World Sports Betting, also commonly referred to as WSB are further known for hosting one of the widest sports betting platforms in the country, one that is packed full of betting markets, with great odds, live streaming for horse racing, and regularly released, exciting promotions for players to win big.
The collaboration between these two titans of South African sport promises to deliver content through a range of marketing channels, including television advertising, as well as World Sports Betting's Best Bets campaign.
World Sports Betting have recently amplified their marketing efforts, taking to television adverts to get the word out about their long standing yet growing brand.
The addition of a superstar with the reputation as respected and lauded as the Beast's is bound to ensure that their product will reach more customers, who are in turn promised an experience that is characterised by trust and safety.