Social Media Reacts To Fikile Mbalula Tweeting 'Vote EFF'
Social Media Reacts To Fikile Mbalula Tweeting 'Vote EFF'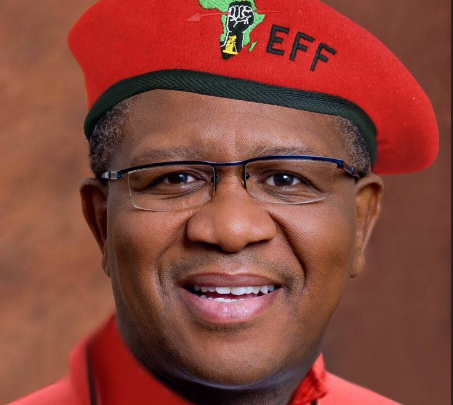 Social Media Reacts To Fikile Mbalula Tweeting 'Vote EFF'! After he lost his job as Minister of Police in the recent cabinet reshuffle, Mbalula was appointed as ANC's Election Head Chief.
Whilst he's been doing the most, Mbalula had an awkward moment on twitter over the weekend when he tweeted "register to vote EFF" instead of ANC. Whilst the tweet has since been deleted, black twitter noticed it and ran with it.
Whilst it could have been an innocent error, it fueled the speculations black twitter has had for a while about Mbalula being allegedly Julius Malema's inside ANC source.
Check out some of the funniest reactions to the tweet here, with Malema leading of course.
We agreed cde @MbalulaFikile that indeed our people must #RegisterToVoteEFF 🤣😂🤣 pic.twitter.com/DOG1N5YfOw

— Julius Sello Malema (@Julius_S_Malema) March 9, 2018
Fikile Mbalula will soonest join EFF pic.twitter.com/wzTs7RMeBT

— Mommy ye Bunny (@khanyisacwati) March 9, 2018
maybe Fikile Mbalula is trying to cut all ties with the ANC so that he can join the EFF.. i'm trying to connect the dots!! but something is Fishy here..#fikilembalula

— Sakie Aaron (@SakieAaron) March 9, 2018
Though I'm still blocked, but Fikile Mbalula is a hard worker. He really didn't deserve to be treated like this by 'Unity'.🙄 I hope he comes back to the Parliament as an EFF MP. Azobanyisa banye nyi🔥💃😂 pic.twitter.com/B9Jbiw3aFK

— 👑uNdlunkulu (@uNdlunkulu_Xoli) March 9, 2018
Freudian Slip…. 😂 😂 😂 😂 Mr Fikile #Mbalula!!! So now we know who the source of #Malema info is… 😂 😂 😂 😂 evota #EFF pic.twitter.com/ZVtOG3HNk2

— Jonathan Levin (@Gawiesnr) March 9, 2018
We welcome Fighter Fikile Mbalula message that we all should go and #RegisterToVoteEFF #RegisterToVote pic.twitter.com/ydJKSVLlLh

— EFF – Superior Logic✊🏾 (@EFFexplained) March 10, 2018
Fikile Mbalula is going to join the EFF

— ㅤㅤㅤㅤㅤㅤㅤㅤㅤ4D🥃 (@NoChill4D) March 9, 2018
We will welcome Fikile Mbalula into the EFF if he wishes to join the movement pic.twitter.com/dqopoXVgb4

— Bhuti Mabhonoza (@SaneleZex) March 9, 2018