Celeb News
Pics! Musa Mthombeni Remembers Akhumzi Jezile On What Would Have Been His 33rd Birthday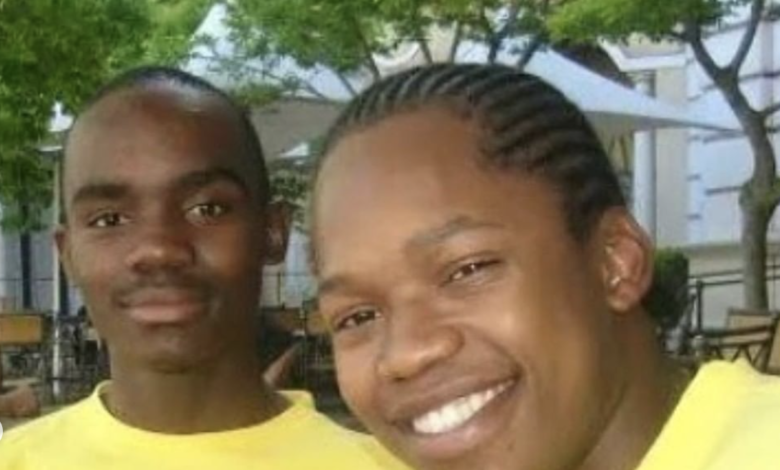 Pics! Musa Mthombeni Remembers Akhumzi Jezile On What Would Have Been His 33rd Birthday. The death of actor and TV personality Akhumzi Jezile came as a shock to Mzansi, and even though he is gone he will never be forgotten. Jezile was described as a friendly outgoing person and he is without a doubt missed by many, especially his friends who were very close to him.
Recently marked what would have been Jezile's 33rd birthday and his good friend Dr Musa Mthombeni dedicated a post on Instagram to celebrate. Mthombeni penned a heartfelt note wishing Akhumzi a happy heavenly birthday and reminisced about all the crazy personality traits that his dearly departed friend possessed. Musa also posted a top 5 of his favourite Akhumzi's photos wearing his fishnet outfit to the pool. Mthombeni shared how the fit would always make him laugh like all the other times they were together.
Musa also shared a hilarious memory of how Akhumzi put a whole candle into his birthday cake and made an inappropriate speech which was surely embarrassing on Musa's part. Jezile was without a doubt a people's person and a good friend to everybody which explains why he is missed so much by the people who knew him.
"Happy heavenly birthday my boy! Today would have been 33. Crazy what life takes from us! To the friend that resisted all temptation. A man that didn't touch the "stuff" To the man that fully believed in 80s beach poses. To the man that freed the nipple before freeing the nipple was a thing. (This is a top 5 biggest laugh I ever had when I saw him out up with this fishnet fit to the pool. I was in literal tears) To the man that for some reason decided to put a whole candle candle. Like a kerese into my birthday cake and give an inappropriate speech. To everyone's friend. Miss you buddy" he wrote.
Zizo Tshwete who was also a very close friend of Akhumzi's took to social media to celebrate his heavenly birthday, expressing how all his fond memories will forever be in her heart. Zizo shared how everybody loved Akhumzi and he, in turn, loved all of his friends. The radio personality revealed that she and Akhumzi's mother shared many laughs looking back on all the fun times they had together and how she will love him forever and always.
"Today is the celebration of one of the coolest humans we have known in our lifetime!!! ❤️❤️❤️ There are so many great memories to think back on for everybody who knew him- all of them land in one place : we LOVED Jez and he LOVED all his friends!!!We had tons of laughter with Ma remembering her great son! Watched some of his videos ??? I think I have a 6 pack now! ???Loved forever and always! Happy Heavenly 33rd birthday Jez" she wrote.
Akhumzi died in a fatal car accident on April 28th, 2018 with his three friends including Thobani Mseleni and Siyasanga Kobese in Aliwal North near Queenstown. Akhumuzi was buried at the West Park Cemetery, Johannesburg, South Africa.