Celeb News
Pics! Masasa Mbangeni Shares Cute Couple Photos In Celebration Of Her Anniversary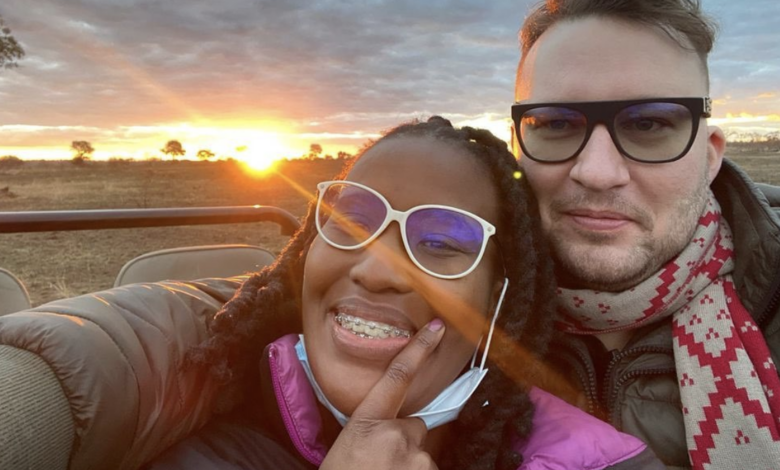 Pics! Masasa Mbangeni Shares Cute Couple Photos In Celebration Of Her Anniversary. We all know how happy Masasa Mbangeni is with her man as she frequently shares funny story's about her adventures with "Baba" as she like to refer to him. Today is a special day for the pair as they celebrate their anniversary. Taking to twitter, the actress took a moment and gave her her partner a sweet shout out.
Masasa shared a few photos with her partner Gwydion Beynon during their memorable moments and it seems like the two have a thing for adventure. Mbangeni shared how loving him has just been an awesome vibe for her and she couldn't be any happier.
"Also Anniversary with this one . Life loving you has been vibes upon vibes and sinking savanna in the Savannah" she wrote.
Many people flooded the post with congratulatory messages and wished the couple many more years together. In a previous tweet, Masasa shared how she shot her shot at the executive producer.
the actress encouraged those who have been avoiding their crush to shoot their shots and see what happens. Her healthy relationship is a perfect example of how things could turn out, as she was the one who pursued Gwydion and which is a decision that she doesn't regret.
even though she doesn't make a habit of posting her partner, the actress makes sure to let her followers know of the royal treatment she receives from her partner even on her worst days.
"#LRT I'm a big advocate of shooting your shot . I shot my shot & two years later I'm in the happiest , healthiest, safest relationship I have ever been in my entire life . Shoot wethu! You won't die" she wrote.
Congratulations guys!!