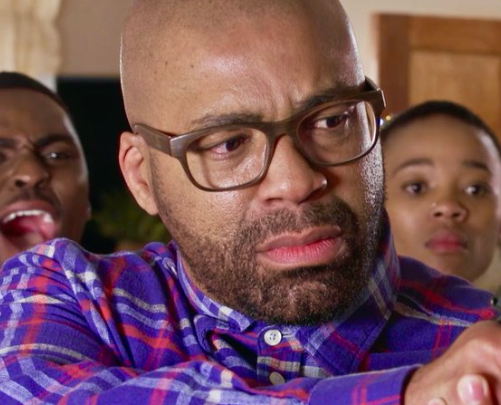 In Memes! The Queen Mzansi's Jerry Maake Leaves Black Twitter In It's Feels! Monday night's episode of The Queen Mzansi has left social media  impressed even more with the quality of actors the show has.
Last night it was Shona Ferguson and Mara Louw's characters which stole the show. Jerry's scene with his sister after finding his wife had been cheating on him with his son and expecting his son's child was one of the most heartbreaking TV moments we've seen in a while.
Here's how fans of the show reacted.
Last night's episode of #TheQueenMzansi… Damn. 💔

— Hulisani Ravele (@HulisaniRavele) March 6, 2018
Shame Jerry guys 😰😰😰😰😰😰😰 this is too much now, I've never seen him this hurt 💔💔💔 #TheQueenMzansi

— Zenande Mfenyana (@Zenande_Mcfen) March 5, 2018
Jerry Found out the truth and bo robot ba fela sametime.#TheQueenMzansi pic.twitter.com/e11r4O7ebn

— Insta: ChueneSello (@Sello_Chuene) March 5, 2018
Altogether now… for @Shona_Ferguson on tonight's ep of #TheQueenMzansi pic.twitter.com/7XJTaf6a8T

— Dineo Moeketsi (@therealdineo) March 5, 2018
@Shona_Ferguson and Marah Louw owned the episode! Killed it!!! 🙌🏾🙌🏾🙌🏾🙌🏾🙌🏾🙌🏾 #TheQueenMzansi pic.twitter.com/yFyfrYS07M

— Rami Chuene 1st Lady (@ramichuene) March 5, 2018
Watching @Shona_Ferguson cry like that on #TheQueenMzansi ripped my heart 2 shreds!😭😭😭 Funny how he's the one consoling me now telling me "baby it's just acting" like I don't know!😂 Now I'm crying & laughing at the same damn time!🙄😂😭 Bravo Mr. Sho!🙌🏾🙌🏾🙌🏾❤️❤️❤️

— Connie Ferguson (@Connie_Ferguson) March 5, 2018
shuuuu this scene 😩😭😭😩👌👌👌👌 #TheQueenMzansi @thequeenmzansi pic.twitter.com/BpIDnlz4nb

— Otto_M (@Otto_Mpodi) March 5, 2018
Thixo. Bhut' @Shona_Ferguson, the raw truth in your performance this evening. I am in awe. It was an honour to watch 🙌🏾🎬🙌🏾🎬🙌🏾 !!! #TheQueenMzansi

— Thembisa Mdoda (@tembisa) March 5, 2018
This me watching Jerry cry I am broken 😭😩 #TheQueenMzansi pic.twitter.com/KobS3Jo2vo

— Tambo okaDumiso (@mdladlamn) March 5, 2018
Can we take a moment to appreciate @Shona_Ferguson 's acting.
Jerry Bathong💔😭 #TheQueenMzansi pic.twitter.com/gblxwnRzM4

— Olebogeng (@_olebxgeng) March 5, 2018
Guys Jerry Maake Issa quality actor shame☹️😭 Today's episode was just exceptionally good 😓🔥especially the part when he said "ausi ong kutlwisitse botlhoko ka tsela engwe……" Mxm this is pure talent 😓 #TheQueenMzansi pic.twitter.com/X5wVaJJHGW

— Philisile_Mfana 👑👑 (@Phili_Mfanaa) March 5, 2018