Celeb News
LOL! Sarah Langa Not Remembering Her Ex K.O Is The Amnesia We Want On Our Exes
LOL! Sarah Langa Not Remembering Her Ex K.O Is The Amnesia We Want On Our Exes! Some love to hold on to their past relationships especially if that relationship was with a celebrity but not Sarah Langa Mackay.
The beauty has been married for a while now and it seems everything that happened in her dating life before then nolonger exists according to her. Sarah continues to be the influencer in every angle and now we also want to forget our exes exist.
After posting her super stylish and expensive outfit of the day, one tweep commented how K.O could have not been able to afford maintaining Sarah's standards. If you thought that was savage, her response will shock you. "Who's that?," Sarah responded. Ouch!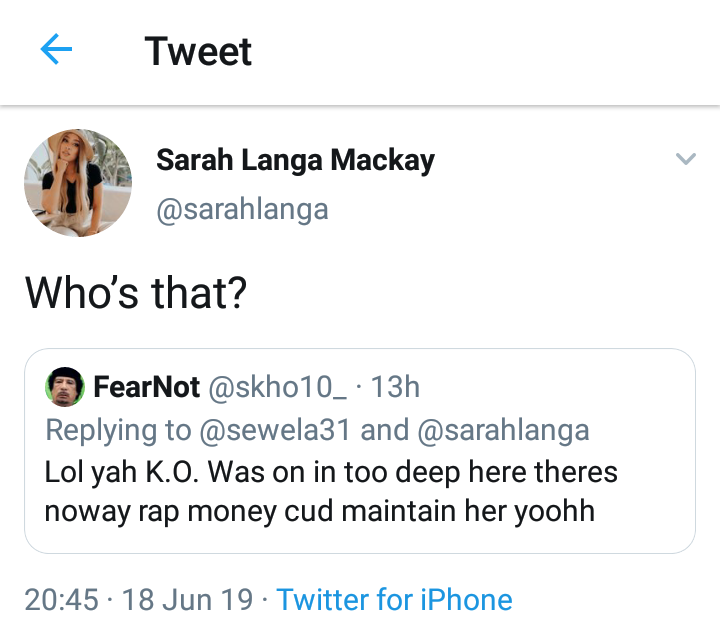 This is not the first time Sarah has acted like she doesn't know K.O. During a radio interview a while ago, she was asked about her breakup from the rapper to which she responded saying, "I don't remember". We have no choice but to stan a forgetful queen.
Today: pic.twitter.com/Y47oMCqN04

— Sarah Langa Mackay (@sarahlanga) June 18, 2019
Did Sarah Langa just ask who is K.O? 😭😭 what a queen. Ctrl Alt Dlt. ❤️

— Bra P. (@PrincessCK__) June 18, 2019
Sarah Langa's amnesia when it comes to that gent is the energy I need, forever.

— Queen (@Esihle_Mhluzi) June 18, 2019
Woke up to Sarah Langa not Remembering Dating K.O. AGAIN…

When will she Free my Man…. Savage that lady I tell u….

Do u remember dating K.O… pic.twitter.com/JJKk8UvfMu

— Lord Stark (@DeezyStark) June 19, 2019
if sarah langa doesn't know that man, then she doesn't know that man.

— Yonela (@___Yonela) June 18, 2019