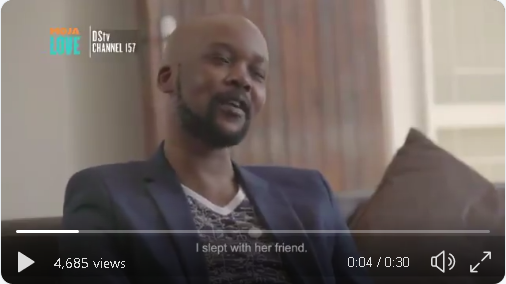 In Memes! Uthando Noxolo's Serial Cheating Boyfriend Leaves Black Twitter Shook! Sunday night's episode of Uthando Noxolo featured a man who has been cheating on his girlfriend with her friends and colleagues. 
Black twitter seemed annoyed by Sibusiso who calls his girlfriend his wife when he has not yet paid lobola on top of him cheating on her with her best friends and colleagues.
Sibusiso said his girlfriend Charity should forgive him and take him back because he has sinned. Check out the reactions from black twitter below.
Tonight on #UthandoNoxolo

Sibusiso has been sleeping with his wife's close friends and colleagues, he would like to get his wife back because he realises he messed up by cheating and putting her in jail for fighting with one of his girlfriends.

21:00 ch157 (@MojaLoveTv) 📺 pic.twitter.com/vlNTMtOpGw

— Reba (@RebaMokgoko) October 28, 2018
Sbu going to cheat with another one of Charity's friends after his television apology: pic.twitter.com/HSs9SY0EgX

— 🌻Me. (@IAm_Nonhla) October 28, 2018
Charity 👏 PLEASE👏 DONT👏TAKE 👏👏HIM 👏BACK!! 👏.. What's a relationship without TRUST? #UthandoNoxolo pic.twitter.com/us5nQPu9Nn

— Blessing Mahlatse (@_Belahm13) October 28, 2018
Sbu needs protection from himself 😂😂😂😂😂😂😂#UthandoNoxolo pic.twitter.com/Ce9p15uqqT

— Soul-Jah (@FeligoC) October 28, 2018
Wow, Women are so stupid 😭. We are failing each other. How do you find pleasure in another woman's tears? 💔 Sies man! #UthandoNoxolo pic.twitter.com/DMvNiqN3zJ

— Blessing Mahlatse (@_Belahm13) October 28, 2018
Jub Jub: Why should she forgive you?
Sbu: Because I have sinned 🤷🏾‍♀️

Sbu is a joke hle 😂😂🤣🤣🤣#UthandoNoxolo pic.twitter.com/IrfiCELKyH

— Lebo (@lebo_070) October 28, 2018
This guy's hasn't even lobola'd yet but he calls her "my wife" NJANI!? #UthandoNoxolo pic.twitter.com/AQvribSag9

— Nubian Queen 🇿🇦👑 (@LessyJantjie) October 28, 2018
Charity shouldn't even take this excuse of a man back #UthandoNoxolo pic.twitter.com/wyQDNuHXoD

— Nubian Queen 🇿🇦👑 (@LessyJantjie) October 28, 2018
"Women Always Understand"… What Trash Talk Is That? #UthandoNoxolo pic.twitter.com/x8joe7bUIj

— Ivan Is The Name 🐼🎲🎱 ◢◤ (@Effective_IV) October 28, 2018
#UthandoNoxolo hao soo Charity still wants a relationship with this dude pic.twitter.com/NIhPAXGQB9

— Mpho (@pennygift) October 28, 2018
Do you know how little a person has to think of you for them to sleep with your bestfriend? #UthandoNoxolo

— influential. an influencer. (@Audriinah_) October 28, 2018
Men fail to understand that cheating does more damage than they think. It kills your self-esteem, you feel worthless, you feel like you are not good enough, pretty enough. You also question your capabilities of being someone's significant other. #UthandoNoxolo pic.twitter.com/XFPnjhca3M

— Blessing Mahlatse (@_Belahm13) October 28, 2018
Sbu is so disrespectful, her best friend and colleagues? And yet he has the liver to say that he thinks he still deserves being with her. Pure nonsense.#UthandoNoxolo

— Reba (@RebaMokgoko) October 28, 2018
A Midrand guy, why am I not surprised 🙄 #UthandoNoxolo

— Karabo Mokgoko 🦄 (@Karabo_Mokgoko) October 28, 2018
We want to see those HIV tests results. This is not what I pay my premiums for.

— Yem Yem (@Jabulani_Comfi) October 28, 2018