Celeb News
Enhle Mbali Reacts To GBV Activists Standing In Solidarity With Her At The Randburg Court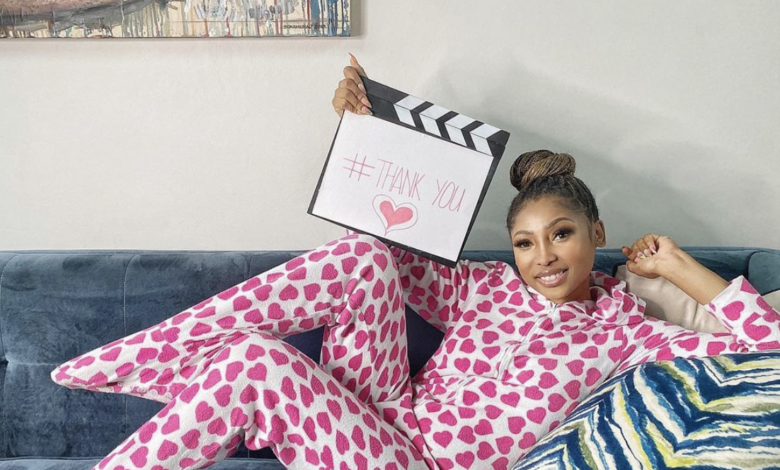 Enhle Mbali Reacts To GBV Activists Standing In Solidarity With Her At The Randburg Court. The women of Mzansi can rest assured that gender based violence is an offence that will not be let go without any consequence's, but most importantly the victim can count on the support of her fellow activists. Enhle Mbali has been through a lot with regards to her divorce from Internationally acclaimed DJ Black Coffee, which has revealed a whirlwind of abuse dating as far back as 2014.
The actress has openly spoken about the many times that her then husband has physically and emotionally abused her throughout their marriage, to the point where he took control of her career. The GBV activist group all came together to march to the Randburg Magistrates Court to show solidarity with the actress and show their support as she has been through a lot.
Taking to social media, the mother of two showed her gratitude to all those who have showed their support and thanked them for the mounds of support and also for supporting others who have lost their lives and are currently subjected to gender based violence on a daily basis. Present at the march is TV personality and radio host Penny Lebyane, who was leading the pack and fully invested into making the cause heard.
Mbali recently filed legal documents at the Randburg magistrates court against Black Coffee real name Nkosinathi Maphumulo for allegedly assaulting her during an argument. Reports also claim that in her application for a protection order , she claimed that this was not the first time the DJ has gotten physical towards her.
Taking to Instagram, the Isibaya actress shared the exciting news of working with an organisation that will be honouring Mama Winnie Mandela's legacy for the Winnie Mandela Cup 2021. This making her the perfect candidate to represent the initiative being an activist herself, because of her own experiences with GBV.
"I'm so proud and filled with joy to announce I am the ambassador of the @winnie_mandela_cup2021 . I pledge to in my personal life and career to stand up against GBV. Pledge to be a Minnie Winnie in the fight, as that's what the cup stands for. #simlylive#simplylove" she wrote.
The soccer tournament is an initiative that aims to spread awareness and broaden the fight against gender based crimes. The platform also aims to celebrate women and the life of Mama Winnie Mandela in an internationally based virtual event that will be taking place April 22nd.