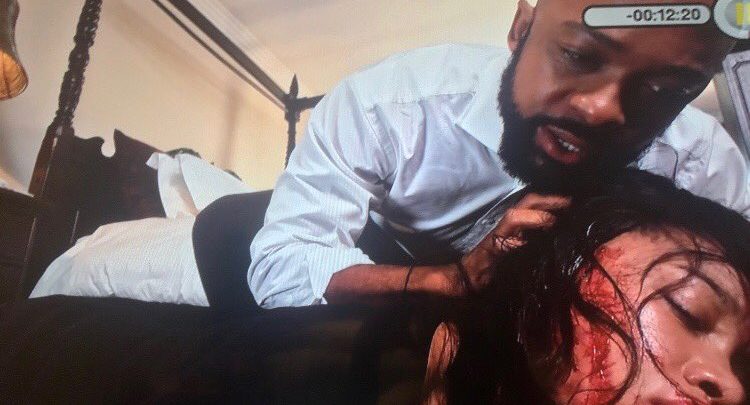 Black Twitter Reacts To #TheQueenMzansi's Kea's Abusive Relationship! Wednesday night's episode of The Queen Mzansi which touched on women abuse in the hands of their partners had black twitter opening up about the same happening in real life.
Dineo Moeketsi's character Kea is going through the most being physically abused by Fezile Makhanya's character Tebogo. Last night's episode was difficult to watch but bravo to The Queen Mzansi creators for the storyline.
Here's how black twitter reacted.
Kea… We warned u…. 😭😭😭 #TheQueenMzansi pic.twitter.com/WbZWpXUK8J

— Asanda Magaqa (@asandamagaqa) April 18, 2018
Just saw a bit of #TheQueenMzansi ever since Tebogo arrived I watch TV alone cause I live with an abuser if I had money to move out I would but till then am stuck… He's not on twitter bastard is asleep and my 7 month daughter is safe for now!

— Sposhsa (@Sposhsa) April 18, 2018
The fact that people are calling Kea stupid shows just how incomprehensible the psychology of abuse is. Abanye thinking that impama will wake her up. Sadly, society thinks violence is the solution. We have a long way to go.😔 #TheQueenMzansi

— Dineo Moeketsi (@therealdineo) April 13, 2018
This episode took me back when I witnessed my mother being hit and burnt in a stove by my father. I was only 9 years old but the picture is still clear in my mind #TheQueenMzansi pic.twitter.com/6aLzwJspOP

— Mlamli (@Mangcala) April 18, 2018
Trying to imagine the awkward moment when the couple with the abusive man is watching this scene… #TheQueenMzansi

— Lady Queen (@FaridaKay_) April 18, 2018
#TheQueenMzansi I pray people are outraged by this violence. Horrified into making a change. I pray it is not further disensitizing us. I pray the men who do this aren't feeling validated because "she hit him back"…

So many women are in these relationships. 💔💔💔

— Mona Monyane (@MonaMonyane) April 18, 2018
Someone wrote; woman are not rehabilitation centres for broken and badly raised men. #TheQueenMzansi

— Olza (@Olwethuster) April 18, 2018
#TheQueenMzansi
The most painful part about Kea's scene is that it's a reality for some women out there😢😢😢 I'm praying for all those women tonight…Jehovah aniphe amandla nesbindi to walk away🙏

— BlackBird (@KhwezB) April 18, 2018
Dear ladies,
Kea issue must be a learning curve, stop saying "he loves me & he's trying to change" this is what will change. You're dead.

8ta Gents,
Your woman isn't a punching bag if you fail to take her to PLK please don't take her to her grave.
Tebogo is US.#TheQueenMzansi

— Mmamorogo Moses Mahlatši Jnr. (@Moses_Maibelo) April 18, 2018
And the sad truth is, theres a Tebogo out there beating a Kea right now.. #TheQueenMzansi pic.twitter.com/t97GSemFOG

— Tryīng to Adūlt😎 (@swazikush) April 18, 2018
#TheQueenMzansi
"Coming to you live from kea's love life ,it's safe to say kuyanyiwa bazalwane" pic.twitter.com/NklMtnsXW8

— Bang.Bangforever❤️🕊 (@KaraboWaves) April 18, 2018
This Kea issue reminds me of the Tyler Perry movie TEMPTATION. It made me sing this song… #TheQueenMzansi 🎵 🎵 🎵 pic.twitter.com/VRmguHQHbv

— Michael Matebe™ (@MichaelMusicSA) April 10, 2018