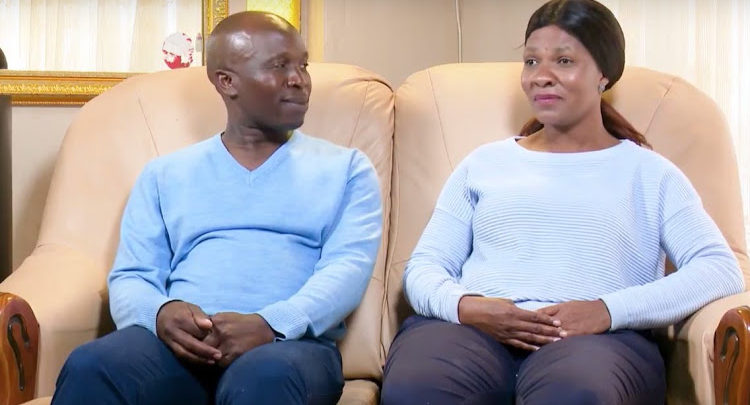 Black Twitter Reacts To OPW Bride Waiting 14 Years For Husband To Return! Sunday night's episode of 'Our Perfect Wedding' left black twitter puzzled by the bride who waited for her husband to return to her after fourteen years of living his best life in Dubai.

Mapula spent 14 whole years as a single mother, only for Tshepho to return and ask her to marry him. If you think waiting 30 seconds for someone to respond to your message is bad, meet Mapula.
Check out the reactions in memes below.
#OurPerfectWedding this poor lady had to wait 14 years and beg this MF to come home and raise the kids 🚮 pic.twitter.com/JEMFQ4gQzt

— 👑Kgošigadi👑 (@koki_mash95) August 19, 2018
He did everything he wanted to do in those 14 years,now makoti is happy "because he's not met anyone like her." He came back to her. Ai #OurPerfectWedding #opwmzansi pic.twitter.com/GGxwhHsciD

— It's that August glow.🌻 (@paballo_patsa) August 19, 2018
The way she makes 14 years sound like 14 seconds lol never #OurPerfectWedding pic.twitter.com/tLR2kFFe2W

— Luscious🇿🇦 (@LusciousJwoww) August 19, 2018
I just love Makoti's honesty that in the 14 years, there were others Evaluating Isphithiphithi 🍑🍑.. 😂🤣😆 #OPW #OurPerfectWedding pic.twitter.com/FN9sLTOjDP

— Thobela Maponya ✊🏾✊🏾 (@ThobelaMaponya) August 19, 2018
#OurPerfectWedding 14 years kaofela 😯 🙆Phela this days In a relationship, silent treatment for more than 48 hours qualifies as a breakup.😂😂😂😂😂 pic.twitter.com/COuPknxkhg

— Tshepiso🇿🇦 (@Tshepi_smith) August 19, 2018
People wait for their baes for 14years, that time rena we get mad when someone takes 14 seconds to reply to your text… Lmao 😂😂😂😂#OurPerfectWedding pic.twitter.com/4F2HEwtKSl

— Lebo (@lebo_070) August 19, 2018
#OurPerfectWedding where does "bekezela" stop kanti? 14 years yonke waiting for someone whose carrying on with his life! ANGEKE!!!! pic.twitter.com/jiTHEdtcXa

— Rare gem (@Nobantu_JM) August 19, 2018
Makoti is strong. I don't think I have it in me to wait 14 years for someone while raising our kids. If you want to go leave,just don't come back. #OurPerfectWedding #opwmzansi pic.twitter.com/RPIoXU9lAr

— It's that August glow.🌻 (@paballo_patsa) August 19, 2018