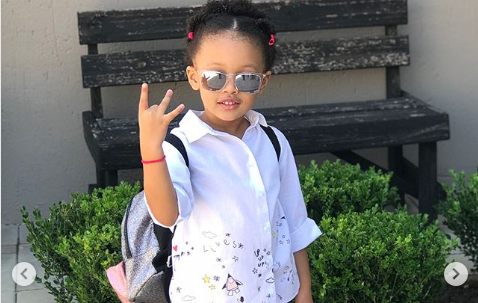 Watch Out Arch Junior, Kairo Forbes Is Coming For Your Throne! A few weeks ago rapper AKA shared how he wanted his daughter Kairo to be a tennis player but knows she's going to be in music since both her parents are.
Zinhle has been sharing cute videos of Kairo practicing to DJ on her equipment and evidently it's only a matter of time until our favorite social media influencer hits the music scene and charts. It's in her blood after all. Proud mama Zinhle recently took to twitter sharing a video of her three year old playing one of her songs.
Kairo's playlist of course if full of both her parents songs although AKA feels DJ Zinhle plays Kairo too much house songs. Check out the adorable video below and AKA's reaction on twitter.
Go baby 😂😂😂🎵 pic.twitter.com/Qsh3Wd3qxd

— #MeetingYourPower #ERAbyDJZinhle #ZeeNation (@DJZinhle) May 15, 2019
You are playing this child too much house music. https://t.co/6mE3W7Za8C

— AKA (@akaworldwide) May 15, 2019
— [L]e[S]e[D]i (@_Hybreed_) May 15, 2019