Vixens
Viral Hot Teacher Reacts To Criticism From Black Twitter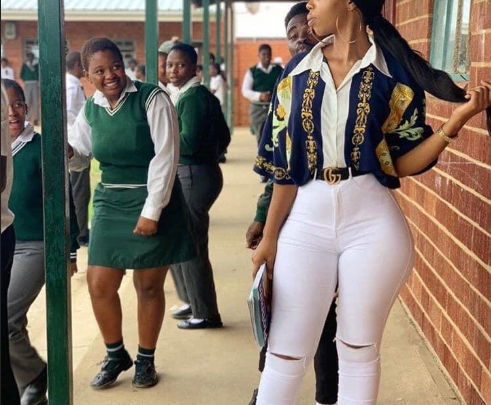 Viral Hot Teacher Reacts To Criticism From Black Twitter! Earlier this week, photos of a beautiful curvaceous High School teacher went viral on social media.
A lot of men on black twitter tried to shame the teacher for wearing clothes that hug her curves saying it would disturb students and was too provocative.
@Lesufi your making it hard for our kids to pass sir. pic.twitter.com/0fuVEmPnLq— Lufuno mathoni (@funimamie) February 5, 2019
Whilst women on twitter defended the teacher saying that's the body she has, she has finally spoken out to defend her character from trolls. The teacher did a LIVE interaction with her followers on Instagram telling the haters to stop assuming that the students have dirty minds.
"I'm not teaching your kids so please stop it….oh the boys nywe nywe nywe….You're forgetting that I'm not teaching the kids on your age. I'm not teaching 25, 26 to 40 learners. My kids are younger, they don't have the pervert mind that you have," she lashed out.
We stan an unapologetic queen. Watch the full video below.
This is the hour glass body shaped teacher yall been tweeting about… Please let's listen to what she has to say 😂🤣 pic.twitter.com/44pxK2rIU5— La'Lace 🇿🇦🙌🏽 (@Lace_VJ) February 7, 2019