Celeb News
Local
Thembi Seete Announces The Birth Of Her First Child On Mother's Day
Thembi Seete Announces The Birth Of Her First Child On Mother's Day! Congratulations are in order for singer and actress Thembi Seete who welcomed her first child, a baby girl on the eleventh of April.
Thembi who was extremely private with her pregnancy took to Instagram to celebrate her baby' one month birthday just in time for Mother's Day. "11thApril Thank you Father 11thMay #definingyear2018 #definingmoments #foreverinmyheart #happy1month #Dakalo," she wrote.
Thembi later posted a lengthy post on Mother's Day opening up about her first Mother's Day and her motherhood  journey so far.
My First Mother's Day…I Approach this day with so much gratitude. I'm still in awe that God trusted me to carry & take care of his masterpiece. Honestly, there couldn't have been a better time for God to grant me the most precious gift of my life. #Dakalo you were worth the wait. God truly was and he continues to be in control.
I've learned that, there are delicate blessings planted in every moment and as a mother you cannot afford to miss such precious moments. This is truly the BEST TIME OF MY LIFE," she gushed.
Congrats to the star!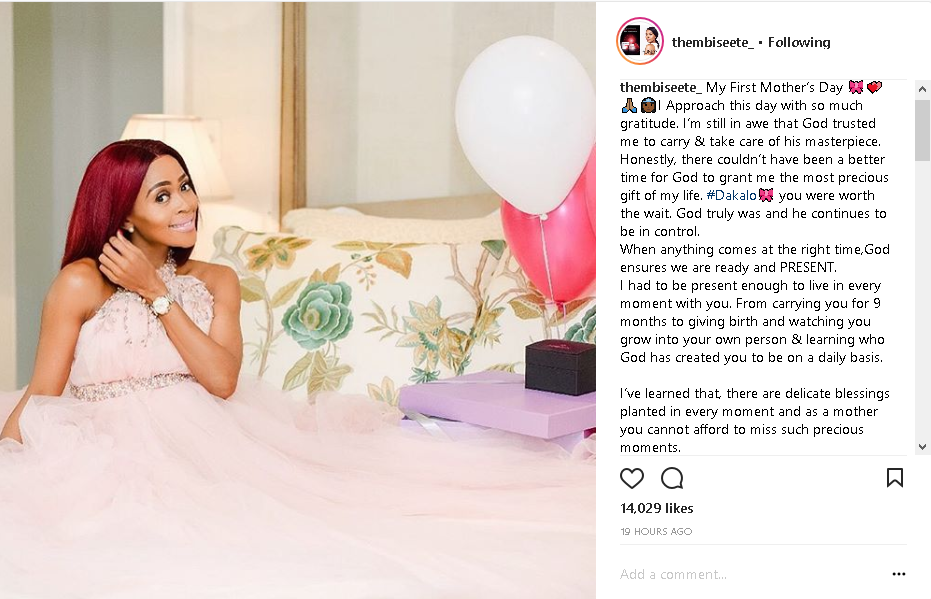 <