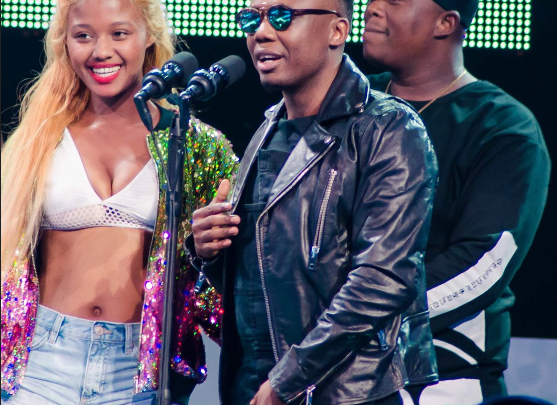 Social Media Calls Out DJ Tira For Enabling Babes' Abuse By Mampintsha! As the nation woke up on Monday to a disturbing video of Mampintsha beating up his girlfriend Babes Wodumo.
Babes set up an Instagram LIVE as evidence of the physical abuse. Whilst social media and celebrities are calling for Mampintsha to be arrested, there's a silent voice that's seem louder than everyone.
DJ Tira took to twitter giving a very PR reaction to the video tweeting crying and broken heart emojis. Twitter is not having it after he made it clear back in 2018 that he still supported Mampintsha.
😭💔

— Makoya Van Best (@DJTira) March 4, 2019
Black twitter is not having it and have called out Tira as an enabler when he could have helped Babes Wodumo get out of the situation she is now. See the reactions below.
Say his name. Say his freakin name. Nenza ama-crying faces nama-broken hearts when it's your friends. Y'all enable this rubbish in your spaces and then come here and do PR reactions. https://t.co/Z1OBml0bD1

— IZWELETHU 😭✊🇿🇦 (@miss_andisa) March 4, 2019
Use your clout to get Mampintsha, and his enablers like Tira, off billings that you feature on or refuse to perform at events with them featured. https://t.co/Fpa2qe4euV

— Stella Was a Diver and She Was Always Down (@Tioranta) March 4, 2019
DJ Tira is crying because all this is bad for business, not because he's hurt about what happened.

— Jesse Swiswi (@JayFromVenda) March 4, 2019
But you knew about this abuse long before Masechaba exposed it Tira and you react with fake tears and heartbreak emojis?! 😳 https://t.co/C9mTweqHqZ

— Paledi (@SaniGlenn) March 4, 2019
Tira enabled this abuse. I'm not here for his fake heartbreak. Pls.

— Abortionist. (@Melusi_MD) March 4, 2019
Tira: *Protects abusers and silences victims for financial gain*

Also Tira when there's evidence of what he's been protecting: https://t.co/QyvrcfHOqg

— ✨ (@LesegoMahlako) March 4, 2019
Stop acting wena tira you been knew ukhale lani? https://t.co/en5kQw0hmi

— Yesu Nyana Ka Thixo (@uYesuKrestu) March 4, 2019
" we won't drop him" Mamphintsha will still perform at events – Tira 2018 https://t.co/dkpTAAfkTk

— Asavela Mngqithi (@asamngqithi) March 4, 2019
Mampintsha, Tira and Danger are like my industry big brothers. They Always advise and support me when im DBN. So for me to see this… is fucken painful. Its so fucken painful. Im dissapointed. Im hurt. And im defeated. No woman deserve this. EVER!

— #Azania 🇿🇦 (@ReasonHD) March 4, 2019