Reactions To Fan Favorite Mbali Voluntarily Leaving The Bachelor SA! The gorgeous Mbali Mkhize left the reality show willingly on Thursday night's episode.
Mbali has been a fan favorite since the first episode thanks to her meme worthy facial expressions and commentary on the show, not to mention she drop dead gorgeous. Fans were shocked to learn she was leaving the show without being booted. Taking to Instagram, the content creator and influencer shared her reasons for leaving.
"Leaving #Thebachelorsa tonight was terribly hard but I had to do what was best for myself and my mental health, This is why I chose to take myself out of the show, I am very shy and I genuinely don't chase, it isn't in my nature. so everything was becoming extremely overwhelming. I really love and appreciate the support. You guys have been absolutely so good to me," she shared on Instagram.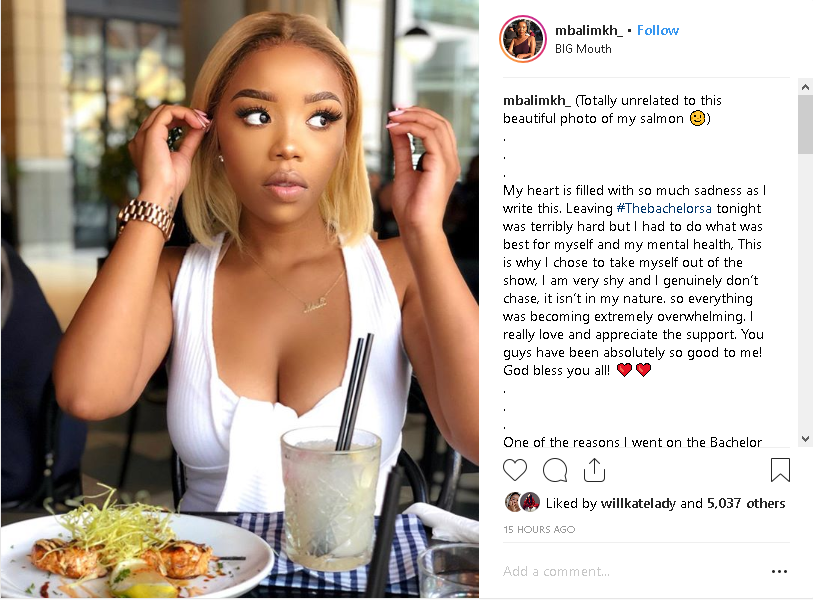 Here are some of the reactions from fans of the show on twitter.
This Mbali girl 🙄. Why are you on a show designed to compete for a man if you don't want to compete. What a bore #TheBachelorSA

— Tumz® (@TumiTumz) March 7, 2019
#TheBachelorSA I think Mbali wasn't feeling the guy. The show. And literally everything. She bonded more with the girls than the guy. That Shelly sis needs to follow through.

— Kittynator like the Terminator🤞🤸‍♀️ (@MNkoale) March 7, 2019
And Mbali bows out. Wow ! #TheBachelorSA pic.twitter.com/E5aYCU33an

— Poppy Ntshongwana (@PoppyIsMyName) March 7, 2019
Mbali should've just told Lee she was leaving the show because he's boring as hell 😭😭😭 #TheBachelorSA

— Sibongile Mafu (@sboshmafu) March 7, 2019
Mbali was my favourite! Why would she voluntarily leave?! #TheBachelorSA pic.twitter.com/5NgkpS5167

— mpheng chelete (@resegokeria) March 7, 2019
Mbali definitely chose the worst show for her personality and character #TheBachelorSA

— Maskonki (@TeeFalatsa) March 7, 2019
#TheBachelorSA Mbali fails to understand the Bachelor and i.wish she watched other Bachelors bcuz each bachelor does make each women feel special. That's how it goes. Can't stand the heat get out the kitchen. Bye

— Pinky Luv (@Pinky94928477) March 7, 2019