Celeb News
Local
Ntsiki Mazwai Reveals The Reason Behind South Africans Constantly Opposing Her Views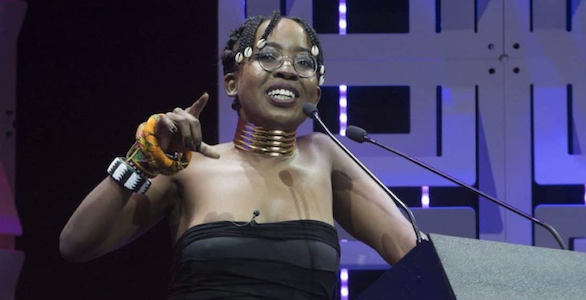 Ntsiki Mazwai Reveals The Reason Behind South Africans Constantly Opposing Her Views – The candid, Controversial public figure, Ntsiki Mazwai, took to Twitter to propose that the reason numerous South Africans tend to stand contrary to her views was that they were inebriated, asserting that alcohol prohibition is a positive move for South Africa.
Ntsiki Mazwai once again trended on Twitter On Thursday, 2 April 2020. Although, contrary to prior controversial actions and statements, this time, she has ignited a discussion and a dialogue on contemporary issues.
Ntsiki is not the first celebrity to share her perspective on the proposed roll-out of 5G, and opposing it, the likes of Dumi Mkostad recently spoke out. With the speed in which technology has been advancing, there would be a lot of people wondering whether 5G is dangerous; however, they might still not be in the majority. Ntsiki further advanced and complimented the alcohol ban, proposing that the reason most South Africans were opposed to her views was that they were often intoxicated before the national lockdown.
"STOP 5G TILL WE HAVE RESEARCHED IT"
If you have been keeping updated with the socials you will know she recently served a lengthy letter to the President that had many choices of words. She started off the letter by saying that the president did not take accountability for Marikana, that is Ntsiki Mazwai for you! 
Check her status below:
I like that South Africans are having a sober moment and starting to see things for what they are…. Phela you were drunk every week Thurs-sun……. No wonder you couldn't hear me in the past
Guys hospital trauma centers are EMPTY……… THAT IS FUCKING PROFOUND!!!! CANCEL BOOZE!!!!! IT'S THE CAUSE OF SOCIAL ILLS