It's been 23 years since the Miss South Africa pageant was broadcast on SABC3 but now it's back on the channel bigger and better than ever.
In 1999, the grand finale was held at the Sun City Superbowl on Saturday, December 11 with 26 finalists taking part. At the end of the evening, SABC3 viewers watched Heather Hamilton from KwaZulu Natal crowned Miss South Africa.
This year, the 2023 Miss South Africa winner will not only be crowned live on SABC3 but viewers will also get to see all the behind-the-scenes machinations that go into choosing a winner, with a five-part series – Crown Chasers – being broadcast weekly in the lead up to the final event and the crowning of a new Miss South Africa, which will take place at Sun International's SunBet Arena at Time Square in Pretoria on Sunday, August 13.
Says Lala Tuku, Head of Local Productions at the SABC: "We are thrilled to have Miss South Africa back on our platform. The Miss South Africa title carries with it a lot of hope, aspirations and most importantly, it enables young women from all backgrounds to showcase the power of what one can achieve with the right mindset. This is a showcase of intelligent, passionate and confident young women who are carving various paths towards success. The SABC remains the home of events of national importance and our logline for S3 is 'Open Up'. To the Miss South Africa finalists, open up new worlds, transcend borders and be the best ambassadors you can be for South Africa."
Adds Miss South Organisation CEO Stephanie Weil: "We are so excited and thrilled to be back on SABC3, not only for the final pageant event, but also with a real game changer that is the Crown Chasers series. We said we'd shake things up, do things differently and bring a new level of interest to the Miss South Africa competition and I believe we have done just that!"
Over a period of five weeks, starting on Sunday, July 9, South African audiences tuning into SABC3 at 16h00 will get a sneak peek into the process of becoming Miss South Africa, through a series of challenges, tasks and mentorship sessions.
A consistent panel of two judges – Bonang Matheba and Leandie du Randt – will be present for each episode with a celebrity guest judge each week, while the series' host Zozibini Tunzi (Miss South Africa and Miss Universe 2019) will act as a mentor to the finalists throughout the competition.
Guest judges include Miss South Africa 2018 Dr Tamaryn Green Nxumalo, Miss South Africa 2001 Vanessa Carreira Coutroulis, Miss South Africa 2010 Bokang Montjane-Tshabalala, fashion designers Gert Johann Coetzee and Khosi Nkosi as well as businesswomen Koo Govender.
Full episodic synopses are:
Episode 1: Welcome to the chase
We meet the 12 finalists in the running for the title of Miss South Africa 2023 and we get to know why they believe they should be vying for the title. They are presented with their official sashes by Zozibini Tunzi and Miss South Africa 2022 Ndavi Nokeri. The episode introduces their first challenge in the form of a networking event as well as their first official photoshoot. The finalists are introduced to the elimination stage where they have a chance to answer questions put to them by the judges which also includes Miss South Africa 2018 Dr Tamaryn Green-Nxumalo. After a quick runway walk one finalist is eliminated.
Episode 2: Time to Travel
The second episode sets to showcase the importance of being a South African ambassador outside local borders. In Mauritius, the remaining 11 finalists are tasked with creating a travel vlog of their experience in traveling internationally, some for the first time. They are given a fun beach challenge,followed by a photo shoot with swimwear from Imbe by former Miss South Africa Shudufhadzo Musida. Other activities on the island take place, showcasing the importance of protecting the oceans from climate change and the finalists meet Miss Universe Mauritius. After appearing on the runway and receiving feedback from the judges a finalist is eliminated.
Episode 3: Down to Business
This episode showcases the importance of understanding business. Finalists are introduced to MoFaya energy drinks and asked to create their own innovative energy drink can. They are briefed alongside a teammate to build a business plan or marketing strategy for their specific product. The episode closes with another elimination leaving just ninefinalists.
Episode 4: Honouring our Heritage
The importance of understanding the vast cultures and backgrounds that exist in South Africa is this week's focus. The first mini challenge introduces the finalists to Banyana Banyana ahead of their departure for the World Cup. The team, together with the finalists, have a bootcamp and showcase the importance of national pride. The finalists are then tasked with creating a meal and explaining what the food means to her before fellow contestants get a chance to taste the dish. For their main challenge finalists present a five-minute TED Talk about their heritage, how their community/family have become an integral part of who they are and why they should represent the brand Miss South Africa. A photo shoot will focus on African cultures with an end of episode elimination. Guest judge is the award-winningfashion designer Khosi Nkosi.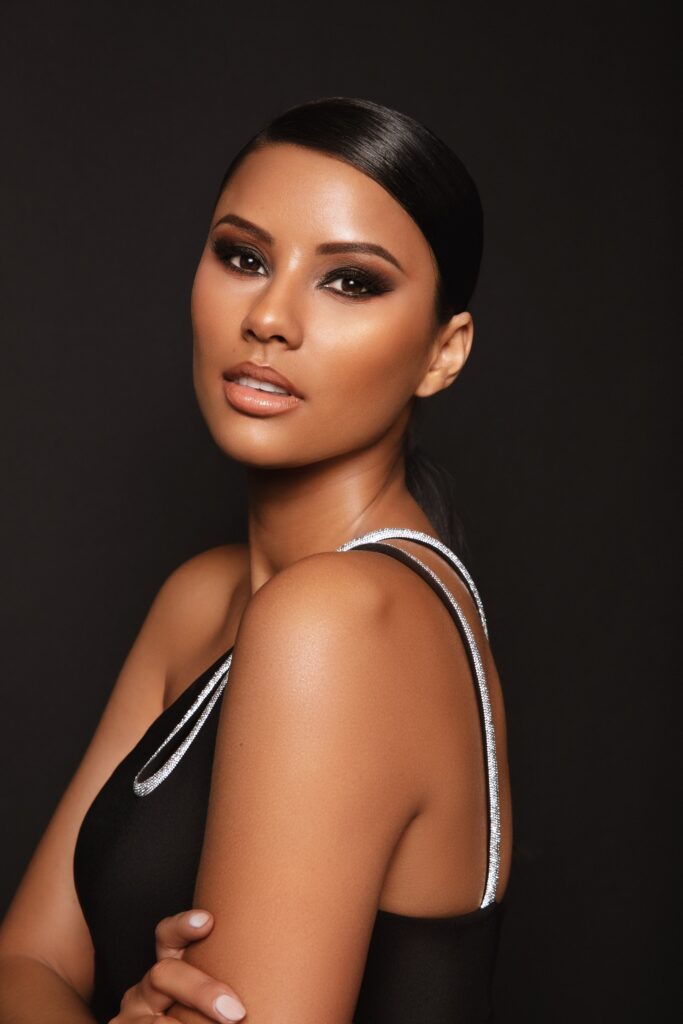 Episode 5: Crusading for your Cause
The final episode sets to showcase the importance of giving back. The remaining finalists are taken to Phefeni High School where, alongside the Imbumba Foundation, they talk about the importance of menstrual health as well as food security. The main challenge is the final interview with each woman presenting their CSI platform to the judges and revealing how the see themselves making a difference in the country. The final photo shoot will see the finalists alongside the current Miss South Africa Ndavi Nokeri and run as a preliminary challenge to the finale. The elimination processthen takes place with guest judges including fashion designer extraordinaire Gert Johan Coetzee, business mogul Koo Govender and former Miss South Africa 2010 Bokang Montjane-Tshabalala.
After Crown Chasers is broadcast, seven finalists will remain and ultimately strut their stuff at the SunBet Arena at Time Square in Pretoria on Sunday, August 13 in the hope of being crowned Miss South Africa 2023.
Miss South Africa is presented by Weil Entertainment in association with Sun International.
Go to: https://www.misssa.co.za