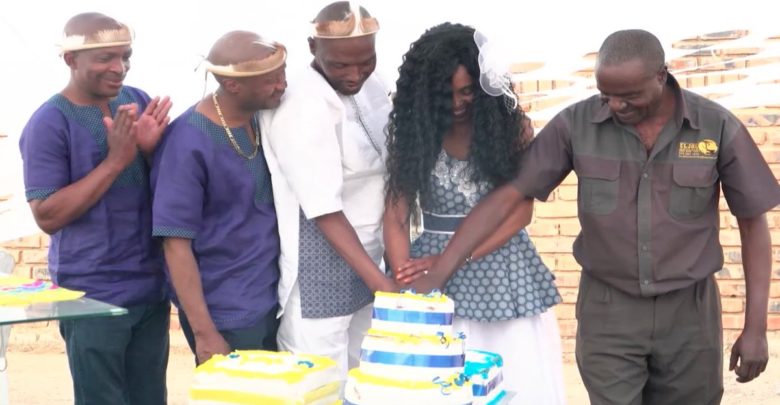 In Memes! OPW Bride's Uncle Leaves Black Twitter Speechless With His Speech! 'Our Perfect Wedding' viewers were left impressed by how the host Nomsa Buthelezi was there for the bride emotionally and helped her plan her wedding.

That was all ruined when the actual wedding happened and the uncle of the bride's speech took all the attention for all the wrong reasons. The uncle seemed like he didn't know where his niece was getting married and went on a rant calling all sorts of ugly names.
Watch the video below.
Sis Ella I'm torn on your behalf 😓😔. Please take heart. God blessed you with a great sister ❤️.

Malume ukhohlakele. Pray that your kids never go through this pain. #opw #opwmzansi #OurPerfectWedding pic.twitter.com/qUkXpBogcO

— Qhawekazi:Sheroine (@mintshigal) October 14, 2018
Here's how black twitter responded to the uncle's speech.
Can we meet the uncle who wants to ruin other children's happiness #OurPerfectWedding pic.twitter.com/K2TQ5gsH1W

— Zinzi Khumalo (@KhumaloZinzi) October 14, 2018
Her new name will be Foolish, Ugly, witch? Someone please take the mic away from tht uncle 😢😢😭😭😭😭😭 #Ourperfectwedding

— Black & Blessed ❤❤✌ (@Mama_Bridgie) October 14, 2018
#OurPerfectWedding that one uncle who cannot control his mouth in front of people 🙆🙆🙆 Malome o Bathong!! pic.twitter.com/Uax2fGX5su

— Mpho Rangwako (@Mpho_Rangwako) October 14, 2018
The uncle the pastor will not see heaven #OurPerfectWedding pic.twitter.com/MAnx0bLf6m

— Zinzi Khumalo (@KhumaloZinzi) October 14, 2018
When you thought they have through lot then here comes an uncle 😏😏😏 #OurPerfectWedding

— Phaleng Lucius Tshwene (@phalenglucius) October 14, 2018
The uncle's words 😶… I'm hurt 💔💔💔😭 #OurPerfectWedding pic.twitter.com/MTdPxIbLNp

— Lebo (@lebo_070) October 14, 2018
The uncle's speech was so uncalled for. I'm shook, I'm emo, I'm hurt #OurPerfectWedding pic.twitter.com/MY4GY6aSql

— Miss Kgaps 💞 (@Sewela_) October 14, 2018
Hebanna what are u saying uncle,sekepenyana sa Bethe?? #OurPerfectWedding pic.twitter.com/WPdzbLGQvE

— the jj (@JohannesMojela1) October 14, 2018
The uncle doesn't know where his niece is getting married #ourperfectwedding pic.twitter.com/vU1IwUHPls

— Soso Sonjica💐💐😍😍🔥🔥 (@SonjicaSoso) October 14, 2018
Bathong, what is this uncle saying? "Mpeto, Ugly, Foolish" what the…?! #OurPerfectWedding pic.twitter.com/8wwIO1XRkr

— Thato (@ThatoMamathuba) October 14, 2018