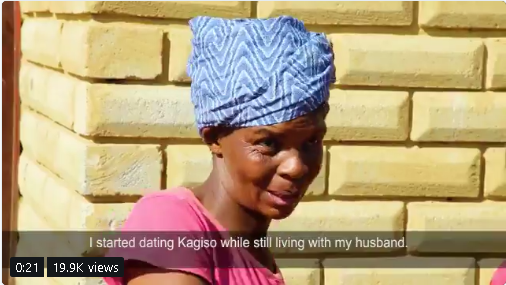 In Memes! Black Twitter Thinks Polygamist Mam Puseletso Is Leadership! MojaLoveTV's new show Sofa Slahlane might be black twitter's new favorite and it's we see why.
On the latest episode, the show featured an elderly woman Puseletso, who has two husbands and lives with both of them and their children.
Tonight on #SofaSlahlane :

Meet Puseletso, a woman with two husbands, living under one roof, even have kids with both of them.

Not to be missed, 9:30pm on @MojaLoveTv (channel 157). pic.twitter.com/UHc5rpSz0j

— Karabo Mokgoko 🦄 (@Karabo_Mokgoko) May 17, 2018
Black twitter was impressed by Puseletso's ability to keep two husbands under one roof and believe she is leadership goals. Check out the reactions in memes.
Puseletso is leadership! A Queen 👸🏽 An icon! #SofaSlahlane pic.twitter.com/7EW0a9BlxP

— Karabo Mokgoko 🦄 (@Karabo_Mokgoko) May 17, 2018
Ausi Puseletso is a leader pic.twitter.com/f1ADMqZFal

— Tumi Sole (@tumisole) May 17, 2018
Puseletso mara is Leadership 🤪#SofaSlahlane pic.twitter.com/nf4aafu7IW

— Chulayo M 💙💛MommaBear🐾 (@ChulayoM) May 17, 2018
uPuseletso is living in 2030 moes #SofaSlahlane so futuristic 👌 pic.twitter.com/GwxE0AYzl6

— PennyM 🦄 (@Penuel_Mashele) May 17, 2018
Ladies watching #SofaSlahlane rn pic.twitter.com/6RY4o15ism

— Karabo Mokgoko 🦄 (@Karabo_Mokgoko) May 17, 2018
Puseletso can get us our land back yaz….#SofaSlahlane pic.twitter.com/7mizw8RpNL

— MsThando To You (@t_h_a_n_d_o_h_) May 17, 2018
Society and double standards, men can have multiple wives but woman can't have multiple husbands? #SofaSlahlane pic.twitter.com/zCV6sdtsD2

— Karabo Mokgoko 🦄 (@Karabo_Mokgoko) May 17, 2018
Puseletso's husband didn't satisfy her anymore, she didn't leave him. She got anothe one 😂🔥 #SofaSlahlane

— Karabo Mokgoko 🦄 (@Karabo_Mokgoko) May 17, 2018
Mme Puseletso says it's her skills doing the talking not her. That's how she keeps both the men🤣🙌🏽

A LEADER ✊🏽🤣#SofaSlahlane

— Reba (@RebaMokgoko) May 17, 2018
#SofaSlahlane time 😊 uMama lives with her husband and a Ben 10 under one roof. UBen 10 helps where the old man lacks.

— Zizi (@Bathandwa95) May 17, 2018