Uncategorized
Black Twitter Reacts To Man Caught Sleeping On Simba Mhere's Grave During ProKid's Funeral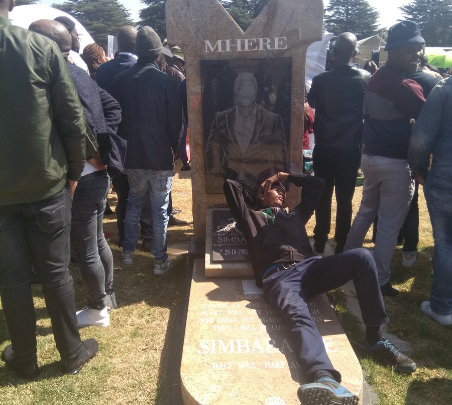 Black Twitter Reacts To Man Caught Sleeping On Simba Mhere's Grave During ProKid's Funeral! A unidentified man who attended rapper ProKid's funeral this past weekend allegedly got so drunk that he had to be carried out of the venue and ended up taking a nap Simba Mhere's grave.

One of the funeral goers took a photo of the man napping and it trended on social media. Black twitter was mad at the man for disrespecting Mhere's grave.
Check out some of the reactions below.
Dude sleeping on Simba's grave like he is at home.#PROKIDfuneral pic.twitter.com/u7ycp6oDAB

— Tendai Joe (@Tendaijoe) August 19, 2018
Why people feel the need to drink to a funeral in This heat, and then end up acting like this ??? #PROkidFuneral pic.twitter.com/UlWgG5Ug66

— www.djcleo.co.za (@djcleo1) August 19, 2018
Hey wena ,have respect for the dead and their resting place.. this dude all laid out on #SimbaMhere grave while attending #ProKidFuneral pic.twitter.com/m0O0YAvKJX

— Moe Chanda (@MoeChanda) August 19, 2018
?? somebody please come get your uncle pic.twitter.com/vJf4KTcyWa

— Benley (@BenleyLebohang) August 19, 2018
unacceptable akwenziwa loku u must show respect kuleyondawo

— Wonder (@Wonder53085337) August 19, 2018
With the way we don't respect funerals and grave yards no more, I won't be surprised that some are now drinking whilst there ??

— Skhindi'Sabesuthu (@Alfie012) August 19, 2018
This fool needs to get off Simba's grave! That is our Simba! He is disrespecting Simba and Pro ?

— B ❤? (@Mpiloe_Cabeka) August 19, 2018