Celeb News
Local
Black Twitter Reacts To Botched Painting Of Mama Winnie
Black Twitter Reacts To Botched Painting Of Mama Winnie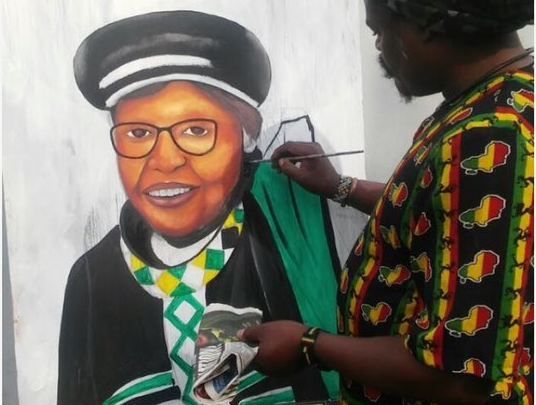 Black Twitter Reacts To Botched Painting Of Mama Winnie! When famous people pass on, artists do the most to pay tribute and showcase their talents. Some do it so well whilst some fail.

We've seen it before with celeb tombstones, now it's Ma Winnie painting that has social media asking, 'who is that?'.
Popular artist Lebani Sirenje, who has done paintings of Nelson Mandela' Albertina Sisulu' Lundi Tyamara and Sfiso Ncwane did Ma Winnie's and black twitter is not impressed.
Mama #WinnieMandela needs to be respected please ??✋? pic.twitter.com/2DEG4Ssx0W

— ?uNdlunkulu (@uNdlunkulu_Xoli) April 4, 2018
This is Mama Jack Rasta .
No Marn pic.twitter.com/FuJp3Al0wu

— Kwakanya Mlokoti (@KwakanyaMlokoti) April 4, 2018
Oh "god me help me" pic.twitter.com/k2SPPoN75u

— I FOLLOW BACK? ♛♔ (@AmSibusiso) April 4, 2018
People like taking chances outchea ??? pic.twitter.com/9qPHrjP2ou

— uBae ?? (@iAmGigglingTom) April 4, 2018
More like Mama Jackie… ? pic.twitter.com/ZF5YG9Uiim

— Martin Lungsta? Jr. (@lungsta_mk) April 4, 2018
Looks like Leon Schuster pic.twitter.com/836wZQZTC3

— Clint (@clinty10111) April 4, 2018