Black Twitter Reacts To Bonang Selling Her Mo'ghel T-Shirts For R400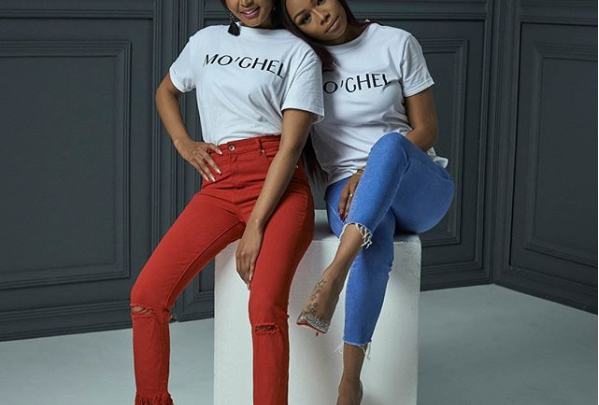 Black Twitter Reacts To Bonang Selling Her Mo'ghel T-Shirts For R400! A few weeks ago Bonang Matheba announced her clothing line Bonang by Bonang Matheba and the first item is a statement tee written Mo'ghel.

Bonang and her cousin have made Mo'ghel popular on their reality show and it seems black twitter was excited to get their hands on the tee until they learnt how much it's going to cost.
The t-shirt will reportedly cost R400 each. This is how some tweeps reacted.
Bonang likes kardashian moves….and The Kardashians even if they say a Tshirt is R5000 people will still buy…with Bonang even with R400…i doubt the sales will even be that high

— Mothekgi (@SheGonBeAMogul) July 25, 2018
😂In this economy.
I can get a plan T.shirt at jet and print "Moghel" for R150.
bonang loves drama https://t.co/Ntk20JQxZT

— Milk and honey🍯🐝 (@Pamela_vukosi) July 25, 2018
That Moghel shirt😭😭❤ I just can't afford a R400 shirt

— Lerato (@Bellissima_aime) July 25, 2018
Bonang o rekisa skipa ka 400 😂 im good luv. Enjoy

— YoSemite Sam (@MpeoMphou) July 25, 2018
Obviously we knew Bonang's Tshirts were going to be expensive but 400 for a white T aowa bathong

— Keratilwe (@Trixx_Ray) July 25, 2018
Lmao listen, I dig Bonang. I think I smile every time I hear her speak Tshwana but haowa Mo'Boi, 400 ?? She has to take a chill pill now

— κ υ ρ ί α (@MarlenexMarley) July 25, 2018
@spreecoza the price of bonang t shirts is 400 per t shirt?

— Georgetikie_ramoncha (@Georgetikieram1) July 25, 2018
Moghel is selling t-shirts for 400?

Are the t-shirts made of just cotton? Is the cotton organic? Is the ink used to print the catch phrases made of a renewable material that enables you to bury the t shirt and have it decompose into super compost within 6 months?

400? 😳😷😳😷

— P. (@Pu_Larney) July 25, 2018
So how does Bonang feel about people who feel the t-shirt is overpriced? She says, "stay pressed".
Stay pressed. ❤️🚀

— Bonang B* Matheba (@bonang_m) July 25, 2018