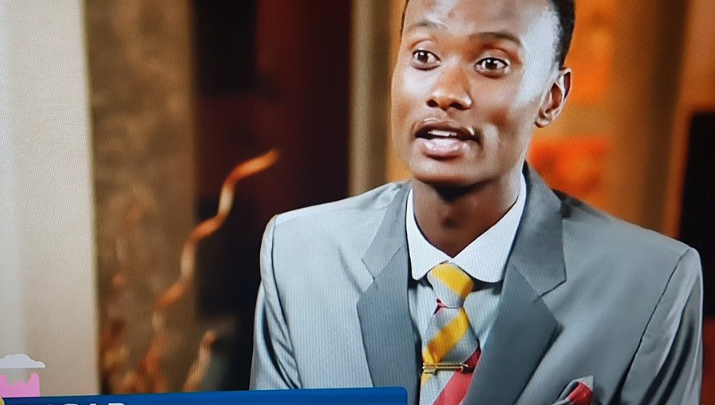 Black Twitter Reacts To Date My Family's Sugar Looking For A 'White God Fearing Slay Queen'! One of the three bachelors on Sunday's episode of Date My Family left twitter confused about the type of a girl he's looking for.
Whilst black twitter fell in love with bachelorette Ray, Sugar was hoping she would be a white God fearing slay queen. Black twitter wasted no time trolling Sugar on his standards.
From saying he lives in a small suburb called Mamelodi, to revealing he hasn't had sex in seven years. Sugar left black twitter shook. Check out some of the funniest reactions below.
#DateMyFamily If Sugar is looking for a white woman, he's on the wrong show shame😒 pic.twitter.com/FQ4NSydeWI

— Thabang🔍 (@TBxne_M) March 11, 2018
Wait was sugar expecting a white girl as a potential date to come kuDateMyFamily ?? Now that is faith !! #DateMyFamily pic.twitter.com/o0ZowIPr5U

— NightKing (@SandileKhumaloH) March 11, 2018
Sugar is looking for a God fearing Slay Queen #DateMyFamily pic.twitter.com/cAwpptD0kh

— Thandeka Mncube 🌈 (@iam_angielynne) March 11, 2018
Wait sugar is looking for a slay queen 😳🤣🤣🤣#DateMyFamily pic.twitter.com/CfFWYhxj3A

— Rendani🌸 (@__pearly___) March 11, 2018
Sugar wants a white woman but he's looking for love on #DateMyFamily #dmfmzansi pic.twitter.com/6dwfwEKXhk

— RaisedInAfrica (@paballo_patsa) March 11, 2018
Sugar hasn't had sex in 7 years? I think it's high time they started calling him SALT. #DateMyFamily pic.twitter.com/9FvhTuiOtC

— BLACK BURGER (@KokiWrites) March 11, 2018
The Real Sugar Real Tshegofatso Real Molefe Real Motsepe. 😣 #DateMyFamily

— Boity Thulo (@Boity) March 11, 2018
#DateMyFamily Sugar wants a God-fearing white slay queen. pic.twitter.com/zA9S5axEwZ

— MaMotse (@BehDee) March 11, 2018
#DateMyFamily 3 Names 2 Surnames, a Virgin, been single for 7 years

Salati sugar pic.twitter.com/DdzbXz1nAB

— SUPER SAIYAN 🔥 (@Willowcudi) March 11, 2018
Sugar said he wants a Slay Queen, does he know what a Slay Queen is? Does he have the bank balance to maintain a Slay Queen? 😂 #DateMyFamily

— Karabo Mokgoko 🦄 (@Karabo_Mokgoko) March 11, 2018
I am so disappointed with Sugar. Arent there God fearing slay queens in his church? He embarrassed himself unnecessarily #DateMyFamily pic.twitter.com/8dJreCbJGz

— Gundo Motsoare (@gladmotsoare) March 11, 2018
When SUGAR saw Ray's Melanin walk through the door.

SUGAR : pic.twitter.com/uJb6KCa4b8

— J. (@Joey_MakG) March 11, 2018
Sugar is not serious about life.
Slay queen yo mlungu?

This kind of naked ignorance in 2018?

I'm leaving SatAfrika.#DateMyFamily

— Vusi Thembekwayo (@VusiThembekwayo) March 11, 2018
🤣🤣😂😂😂😂😂😂😂🤣🤣🤣🤣😂🤣so sugar wants a white slay queen??🤔🤔🤔🤔🤔🤔#DateMyFamily pic.twitter.com/fjtGIoHxFs

— Batlile kgatle (@batlilekgatle) March 11, 2018
Sugar said "I live in a small suburb called Mamelodi"

Mams Ke suburbs nou? 😂😂😂😂 #DateMyFamily

— Karabo Mokgoko 🦄 (@Karabo_Mokgoko) March 11, 2018