'Anyone Talking Sh*t About Me In 2018 Is Getting Klapped,' Says AKA
'Anyone Talking Sh*t About Me In 2018 Is Getting Klapped,' Says AKA
'Anyone Talking Sh*t About Me In 2018 Is Getting Klapped,' Says AKA! A few weeks ago the rapper had everyone convinced that he was indeed a changed man who nolonger slapped people but it looks like there are some people who still need to experience AKA's klaps.
The rapper who is currently out of the country took to twitter to give warning to TV personalities who are going to be part of round tables about keeping it positives when his name comes up.
"Anyone talking s*** about me in any of these round tables in 2018 is getting klapped. Straight up," he tweeted.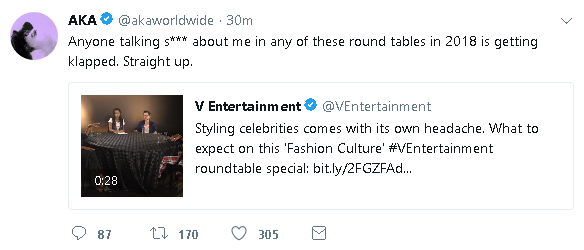 This coomes after VEntertainment posted a clip of media personalities discussing celebs wearing local brands and AKA's name came up in a shady way. Watch below.
Styling celebrities comes with its own headache. What to expect on this 'Fashion Culture' #VEntertainment roundtable special: https://t.co/Osc1w80Ae6

The Panel: @NoMoozlie , @Don__Design , @LufunoLove , @allenfolley, @barbiliscious , @PalediSegapo , Alan Foley pic.twitter.com/pdQD2q3yLf

— V Entertainment (@VEntertainment) March 16, 2018